Trump Trade Winds Blow Egypt Oranges to Shanghai Fruit Shops
(Bloomberg) -- Escalating global trade tensions are giving Chinese fruit stalls a little more of an international flavor.
Fruit distributor Sunmoon Food Co. is shipping navel oranges from Egypt, kiwis from Italy and apples from Poland into China for the first time ever. The produce will fill the gap created when the Asian nation slapped tariffs on U.S. fruit as part of the escalating trade war between the Xi Jinping and Donald Trump administrations.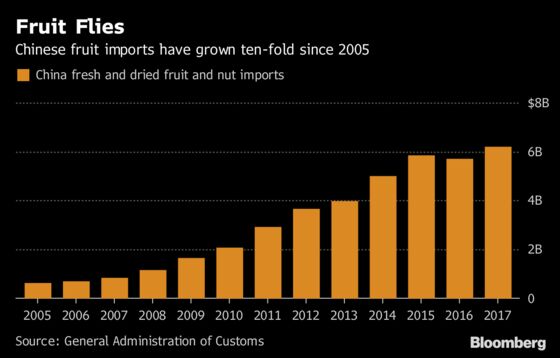 With turnover of $45 million, Singapore-based Sunmoon is a minnow compared with fruit giants like Fresh Del Monte Produce Inc., which had revenue of $4.1 billion last year. But the new business it's doing in China underscores how the tariff tit-for-tat between the world's two biggest economies is reshaping global trade flows. China imported $6.2 billion worth of fresh and dried fruit and nuts last year, up nearly ten-fold from 2015, according to customs data.
"Like with any trade war or political upheaval, there will always be certain re-balancing along the markets," Gary Loh, Sunmoon's chief executive officer, said in an interview. "Companies like ours can take advantage of this and introduce new products into new markets."
China's Ministry of Commerce in April levied a 15 percent import tariff on U.S. fruits and nuts, and in July added an additional 25 percent duty. The taxes were in retaliation against American tariffs on $50 billion of Chinese goods. President Trump is seeking to pressure the Asian nation into reducing its trade surplus with his country.
Fruits and nuts are a relatively small part of the overall picture, comprising just $488 million of $130 billion total American exports to China, according to U.S. Census trade data. The Chinese market is one of the fastest growing in the world, though, and U.S. farmers will now find it that much more difficult to make potentially lasting connections there, according to Richard Owen, vice president of global membership and engagement at the Washington D.C.-based Produce Marketers Association.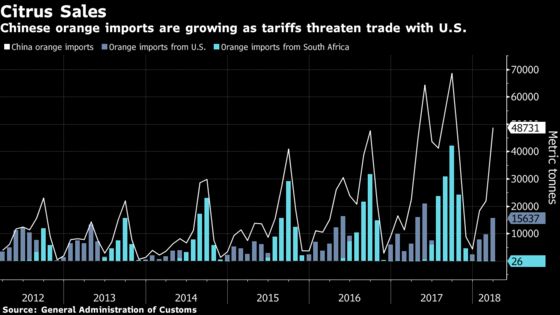 Sunmoon counts China as its largest sales market, where it can reach 900 million mouths through its partnership with Shanghai Yiguo E-commerce Co., an Alibaba Group Holding Ltd. affiliate that owns more than half of the company.
It has benefited from the trade war by leveraging its network of suppliers in 18 countries and more than 15,000 wholesalers, supermarket chains and stores, mostly in China and Southeast Asia, Loh said. Sunmoon shares rose 4.6 percent to close at 4.6 Singapore cents on the Singapore Exchange Monday, the biggest gain in a month.
When China raised tariffs on U.S. goods, Sunmoon shipped navel oranges from a packaging house in the suburbs of Cairo to its warehouses in Shanghai. It's also testing out oranges from Israel, Morocco and Spain in the Chinese market with the possibility of increasing shipments next year if the tariffs are still in place.
While U.S. growers will be hurt initially by being blocked from China, the massive increase in demand from the country will be a long-term benefit for all producers regardless of trade issues, Rabobank analysts including Roland Fumasi said in a recent research note.
Loh sees the same dynamics at play. Sunmoon took advantage of cherry tariffs to buy bushels of the fruit from Wenatchee, Washington, and ship them for the first time to Ho Chi Minh City in Vietnam.
"It gives Southeast Asian countries a chance to see new varieties that previously they would not see in their market," Loh said.