Teva Analysts Say Migraine Drug Approval Gives Needed Relief
(Bloomberg) -- Teva Pharmaceutical Industries Ltd. climbed as much as 7.4 percent in early U.S. trading after FDA approval of its migraine drug, Ajovy, surprised the Street. The medicine is the second of its kind, behind Amgen's Aimovig, and has the potential to reach sales of $1 billion in four years, according to BTIG analyst Timothy Chiang.
The highly-anticipated approval is a much needed step in the right direction for a management team that is looking to convince skeptics and mount a much-watched comeback, analysts said. The stock opened above $24 in the U.S. for the first time in almost a month, but remains down more than 65 percent from a record in July 2015.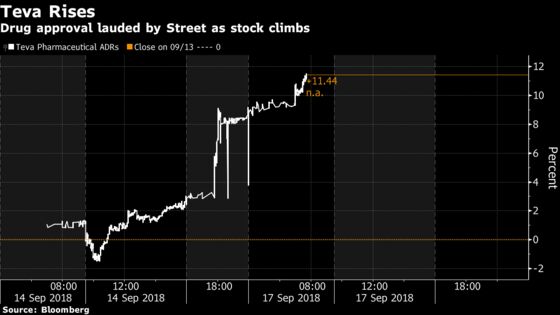 Here's a round-up of what analysts had to say:
"Teva continues to move in the right direction, now run by strong management, which is implementing deep cost reductions. And the current operations have been complemented by better than expected Copaxone, which is retaining share."
"However, with Teva's CGRP at a dosing disadvantage its profile is a bit diminished," Cacciatore wrote and, with free cash flow expected to reach $3 billion, this doesn't support a $50 billion or more enterprise value.
"We believe that Ajovy's pre-filled syringe is at a disadvantage to Amgen's Aimovig, (as well as Lilly's galcanezumab which will likely be approved shortly), both of which are delivered via an auto-injector for monthly administration. Teva does have the only product that has been tested on a quarterly basis (meaning patients could inject Ajovy three times, once every three months), which some patients might find appealing."
Cowen rates Teva market perform with a price target of $16.
"We see the approval as a positive for Teva, as Ajovy could become a potential blockbuster product by 2022," Chiang wrote, estimating sales of roughly $1 billion.
"While we already include Ajovy sales in our estimates, we believe the approval comes at a critical juncture for new CEO Kare Schultz, who is leading a potential turnaround of the co. Reviewing the Ajovy product label, a potential source of differentiation vs other CGRP antagonists will be the ability to dose Ajovy once-per-quarter (as well as once-per-month)." Currently, unrated Amgen and Novartis' Aimovig is only indicated as a once-monthly dosed product.
BTIG raises Teva to neutral from sell. Chiang has no price target but says DCF analysis suggests a value around $22.
"FDA approval of Ajovy in migraine prevention is a welcome relief."
"We believe there are other underappreciated positives in TEVA, like a more stable North American Generics business (expected run rate of $4.0B/year) and continued durability in Copaxone. Importantly, credibility of Teva's new CEO remains intact after this event."
Mizuho affirms buy rating on Teva and raises price target to $29 from $28 on improved migraine assumptions.
Piper Jaffray, David Amsellem
"Given that there had been doubts regarding the timing of approval (whether fair or unfair) due to an FDA warning letter (that had nothing to do with Ajovy) at the facility of API (active pharmaceutical ingredient) supplier Celltrion, the approval certainly bolsters senior management credibility in our view."
"That said, we remain cautious on the launch trajectory and overall sales potential of Ajovy, given a crowded, heavily contracted competitive landscape and given advantages for Amgen's (covered by Chris Raymond) Aimovig and Eli Lilly's galcanezumab (approval expected later this year) in terms of ease of administration."
Amsellem wrote he "would not necessarily view quarterly dosing as a real advantage for Ajovy," but the auto-injector Teva is working on may put Ajovy on a "level playing field" with Amgen and Lilly medicines.
Piper Jaffray reiterates Teva underweight rating.
RBC, Randall Stanicky, Kennen MacKay
"Ajovy has been approved for both monthly and quarterly dosing. In contrast, Aimovig has only been approved for monthly dosing. This could prove to be an important point of differentiation in a class of drugs generally perceived to have similar efficacy and safety profiles. The only other CGRP therapy in development with quarterly dosing that we are aware of is ALDR's eptinezumab, which is ~1 year behind."
"Importantly, this stops the clock on Aimovig's first mover advantage. This matters because the CGRP mAb therapies are much more similar than they are different," Stanicky wrote, and "places it more in-line (and not behind) LLY's galcanezumab, which is waiting in the wings with a PDUFA date expected by the end of September."
MacKay says Amgen will continue to build on its "first mover advantage."
RBC rates Teva sector perform with a price target of $19; Amgen also rated sector perform with a price target of $193.