Oracle Reports Sales That Miss Estimates on Slow Cloud Effort
(Bloomberg) -- Oracle Corp. reported sluggish quarterly sales and projected anemic growth in the current period, signaling that the world's second-largest software maker continues to stumble in its transition to cloud computing.
Fiscal first-quarter revenue was little changed at $9.2 billion, missing analysts' estimates. Growth this quarter may also stall, with Chief Executive Officer Safra Catz saying Monday that sales are forecast to be flat to 2 percent higher.
Under Catz and Chief Executive Officer Mark Hurd, Oracle is trying to become a powerhouse in web-based cloud computing. The company, known for its database software, has prioritized converting existing clients to the cloud rather than finding new customers. As part of the effort, Oracle launched the "Bring Your Own License" program, which lets customers move their data to Oracle's cloud while staying on their current contract, without shifting to a new subscription payment plan. Still, the company lags behind rivals such as Amazon.com Inc., Microsoft Corp. and Salesforce.com Inc.
"Oracle is having some real challenges with its renewal rates on its cloud product," Pat Walravens, an analyst at JMP Securities, wrote in an email.
Oracle's shares fell more than 4 percent in extended trading after closing at $49.18 in New York. The stock gained 4.2 percent this year through Friday.
Catz said revenue growth will pick up in the second half. "Also, we remain committed to delivering a higher revenue growth rate for all of fiscal year 2019 when compared to that of last fiscal year," she said on a conference call.
The company forecast profit, excluding some items, of 77 cents a share to 79 cents a share in the fiscal second quarter, which ends in November -- in line with analysts' average estimate of 79 cents, according to data compiled by Bloomberg.
"Confidence on our side is really high," Hurd said on the call. "Our team at Oracle believes their destiny is to win every deal."
Still, that confidence has been tested. Oracle's shift to the cloud has been at the center of a dispute between product development president Thomas Kurian and Executive Chairman Larry Ellison, people familiar with the company said last week. Kurian is said to have taken a leave of absence because he thought Oracle should make more of its software available on the cloud platforms of Amazon and Microsoft while Ellison disagreed, people familiar with the matter told Bloomberg last week.
"Thomas is a good guy," Hurd said. "Works awful hard. He's taken a break and we expect him back."
Oracle also announced a $12 billion increase in the company's share buyback program, giving some of its repatriated cash to investors.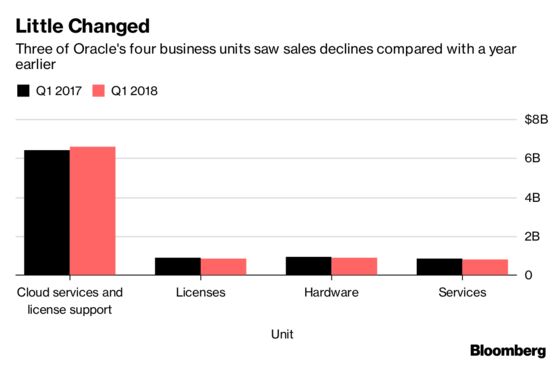 Oracle's cloud services and license support revenue gained 3.2 percent to $6.61 billion in the period ended Aug. 31, the Redwood City, California-based company said in a statement. While the metric includes revenue from hosting a customer's data on the cloud, a large portion of the total is likely from maintenance fees for traditional software housed on clients' servers. The unit accounted for more than 70 percent of total revenue.
Cloud license and on-premise license sales declined 3 percent to $867 million, a sign the company is having a tough time persuading businesses to enter new contracts.
Profit, excluding some items, was 71 cents a share, compared with the average estimate of 68 cents.
Oracle has made it harder to discern progress in its transition. When the company reported fiscal 2018 fourth quarter earnings in June, it stopped breaking out sales for new software licenses and the performance of various cloud products, spurring investor angst, and sending the stock tumbling more than 7 percent the next day.
The company is also facing a shareholder lawsuit filed last month, alleging that Oracle used strong-arm tactics to coerce customers into adopting its cloud products. The suit, seeking class-action status, also alleged the software maker deceived investors about how it had increased cloud sales.