Investors Cash Out of Biotech ETF as M&A Boom Never Materializes
(Bloomberg) -- A biotechnology exchange-traded fund is losing cash as investor hopes for merger-fueled growth continue to be dashed.
Investors pulled a record $365 million from the $9.3 billion SPDR S&P Biotech ETF, known by its ticker XBI, last week. The equal-weighted nature of XBI's underlying portfolio emphasizes small- and micro-cap shares, giving the fund greater exposure to developing companies than similar ETFs, which are heavy on larger, established pharmaceutical stocks.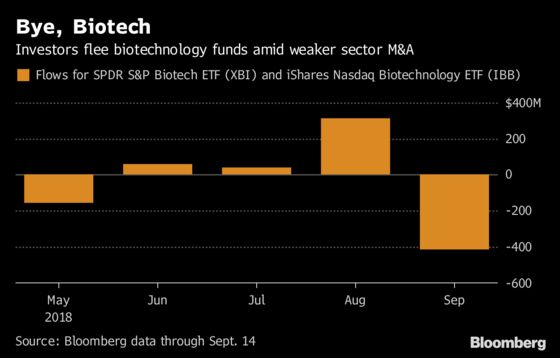 One of the reasons investors could be fleeing is the dearth of M&A in the sector, said Jared Holz, a health-care strategist at Jefferies Group. Despite a strong start to the year, rising valuations for small- and mid-cap biotech businesses have deterred drugmakers from takeovers.
Investors hoping for a deals revival may have seen their hopes dashed last week when several companies, including Amgen Inc., reiterated that valuations are stretched. U.S. large-cap pharma companies have $440 billion in dry powder to deploy toward takeovers or return to shareholders, according to estimates by Goldman Sachs Group Inc. in July.
In addition, the filing of an initial public offering by Allogene Therapeutics Inc. on Friday spooked investors in a new class of promising cancer therapies, known as CAR-Ts. The South San Francisco-based biotech, led by the former management of Kite Pharma Inc., is working on the next generation of cell therapies that could threaten existing CAR-Ts made by firms such as Gilead Sciences Inc. and Celgene Corp.