FedEx Raises Annual Profit Forecast With Surging E-Commerce Demand
(Bloomberg) -- FedEx Corp. tumbled as higher labor costs dented earnings and caused the courier to fall short of Wall Street's expectations.
Increased wages fueled an 11 percent jump in salaries and benefits, the company said.
In a statement, FedEx raised its outlook despite the disappointing performance in the quarter ending Aug. 31. The improved outlook, which covers the fiscal year ending May 31, signals that FedEx expects strong demand for parcel delivery and air cargo in the next three quarters. The company boosted its forecast only three months after setting the goal.
"We are very optimistic about our prospects for profitable growth and remain confident we will reach our goal to improve FedEx Express operating income by $1.2 billion to $1.5 billion in fiscal 2020 versus fiscal 2017," Chief Executive Officer Fred Smith said in the statement.
Capital expenditures rose 13 percent to $1.18 billion from the same quarter a year earlier. FedEx has said it expects full-year capital spending to slow to $5.6 billion from $5.7 billion in fiscal 2018.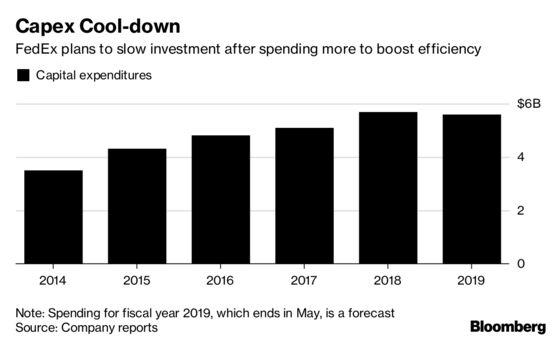 The shares fell as much as 4 percent to $245.50 in late trading in New York, with losses deepening during the company's conference call to discuss earnings.
Results and outlook:

FedEx forecast adjusted earnings per share for the full year; the guidance midpoint beat the average analyst estimate.
Sees FY adjusted EPS $17.20 to $17.80, estimate $17.37 (range $17.10 to $17.81) (Bloomberg data)
Sees FY capital expenditure $5.6 billion, estimate $5.62 billion (range $5.60 billion to $5.75 billion) (BD)
1Q adjusted EPS $3.46, estimate $3.80 (range $3.65 to $3.98) (BD)
1Q revenue $17.1 billion, estimate $16.87 billion (range $16.47 billion to $17.16 billion) (BD)
1Q adjusted operating margin +7.0%
NOTE:
25 buys, 4 holds, 1 sell