Align Sees Opportunity in Crooked Teeth Around the World
(Bloomberg) -- The smiles on Align investor faces just keep getting bigger.
The maker of the Invisalign teeth-straightener sees its best days still to come, despite shares doubling in the last 12 months, and more than quadrupling from the start of 2017. The stock is trading at a record.
"When we can treat 70 to 80 percent of patients and we're only around 10 percent market share, there's an equilibrium that has to happen," Chief Financial Officer John Morici said in an interview with Bloomberg News in New York this month. "We have opportunities in places like India and Korea and in Latin America, so international growth is a big opportunity for us when our market share is still small."
Align Technology Inc. credits an expansion into the teenage demographic and innovative products paired with international growth as the bellwether sign that business is showing no sign of letting up. Revenue for the second-quarter of this year ballooned by 37.5 percent from the year prior to a record, according to data compiled by Bloomberg.
A prime example of the international potential is showcased by Align's successful foray into China. The country is already Align's second-largest market behind the U.S. despite not being in its top five just a couple of years ago.
Shares of Align have jumped more than sevenfold in the last three years and it was the S&P 500 Index's top performer in 2017. The stock has 13 buy recommendations, 3 holds, no sells and an average 12-month price target indicating another $20 per share of upside.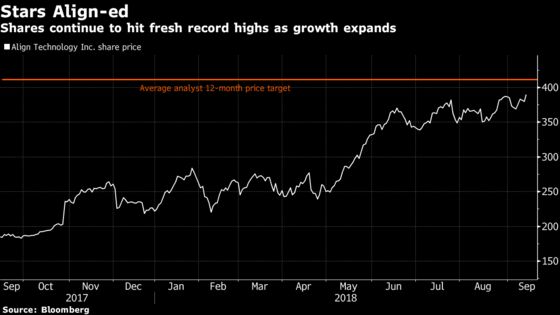 Bullish analysts have continued to slap Street-high price targets on the stock as the company's shares rallied. Stifel analyst Jonathan Block reiterated his bullish take in a Sept. 14 note, saying Align's story "has more room to run" thanks to its innovation and international expansion in years to come.
That said, Block and William Blair's John Kreger have acknowledged risks related not only the stock's premium valuation but also from other clear aligner products.
Key patents that protected Invisalign's design and manufacturing expired in Oct. 2017, and many of Align's remaining related patents will expire by 2019. The company has been fighting to maintain its market dominance, filing patent lawsuits and trade complaints against smaller rivals, including SmileDirectClub.
Still among the possibilities for Align are the adoption of iTero, an intraoral scanning system, in China and more aggressive implementation of U.S. Invisalign stores, which may fuel upside that isn't baked into shares yet, according to analysts. The company plans to open more stores in the U.S. Midwest and South soon, Morici said.
"We started out as a disruptive technology and 20 years later we're still a disruptive technology," Morici said. "When you think of competition, our main competitor is wires and brackets."