Citigroup Stock Price Could Double in Next Four Years, Mayo Says
(Bloomberg) -- Citigroup Inc.'s stock price could double over the next four years as it changes out top leaders across the bank, Wells Fargo & Co. analyst Mike Mayo said.
Mayo said on Monday that Citigroup is his "number one idea" after the firm announced it would shuffle top leaders in its U.S. consumer business and that its longtime chief financial officer, John Gerspach, would retire in March. Citigroup's current chairman, Michael O'Neill, also won't be eligible for re-election to the company's board after he turns 72 next month.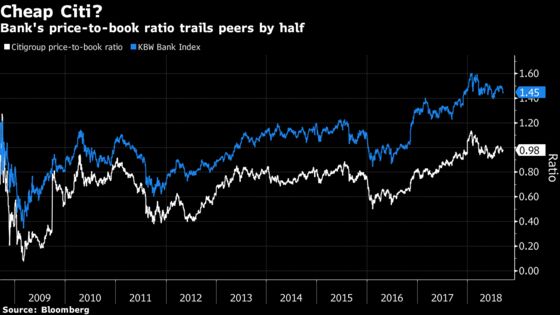 "We think Citigroup needs extra intensity, extra focus at the top to control expenses," Mayo said in an interview on Bloomberg Radio. "Over the next several months, you're going to have a change in chairman, a change in CFO, a change in consumer in the U.S. So changes at a firm that's under-optimized creates potential."
The percentage of analysts with a "buy" rating on Citigroup's stock is at its highest level since January 2017, according to data compiled by Bloomberg. The firm's shares have under-performed this year, weighed down by a looming trade war and flattening yield curve.
Citigroup closed at $70.54 on Friday. The shares have declined 5.2 percent this year, compared with an 0.8 percent advance for the 24-company KBW Bank Index.