Someone's Making Dough on Pot Stocks, Chinese IPOs: Taking Stock
(Bloomberg) -- The S&P 500's four-day win streak has put it in the green for September, an impressive turnaround from last week's run of red. Things are looking up again today, with the S&P futures climbing another five handles.
But despite the recovery and Thursday's leadership from tech (S5INFT +1.2%), the rotation into the defensive sectors remains a big focus as utilities, consumer staples, and telecom are three of the four top performers month-to-date.
Investors reacted to the poor September start by taking money out of the stock market: Global equities had $5.6 billion of outflows for the week ended Sept. 11, the most in eleven weeks according to EPFR's data, with $2.3 billion specifically moved out of the U.S.
The shift from equity to bond ETFs is notable, with Morgan Stanley noting that this was the largest week of bond ETF inflows since mid-July. We'll have to wait and see if the overall equity outflows snap back to inflows after the recent rebound in the tape.
A very eventful sell-side conference season is coming to an end, but we still have a few big names to be aware of today, from Wells Fargo's CFO at Barclays prior to the open to two industrial bellwethers (Caterpillar's CFO and United Tech's CEO) later on in the day.
The pot stocks are a volatile bunch in the midst of upside parabolic explosions, which means they're way more fragile than pretty much everything else in this market. Case in point is the quickfire selloff in the group (Tilray -14%, Cronos -9%, MJ ETF -3.5%) on a report that I admittedly did a double-take on because it seemed so out of left field.
This Politico headline did it: "U.S. Official: Canadian Marijuana Users, Workers and Investors Risk Lifetime Border Ban" -- but the story isn't as ominous as it sounds if you are pro-cannabis or long the pot sector. Scroll to the middle and you'll get the rub that says border officials won't go out of their way to interrogate every Canadian traveler, but "if other questions lead there -- or if there is a smell coming from the car, they might ask."
There's more to the article, and I think there is much more to this story in general, but you get the gist. It doesn't immediately read to me as some massive policy overhaul that's going to upend the pot industry, but rather comments from one official that could easily be walked back or, at the very least, massaged by some agency spokesperson in the near future.
The point is that it doesn't take a whole lot to send these high-flying pot stocks off a cliff (note Tilray was up 350% in the past month before the Politico report hit), and there are many short-selling sharks that are starting to smell blood in the water, so buyer beware.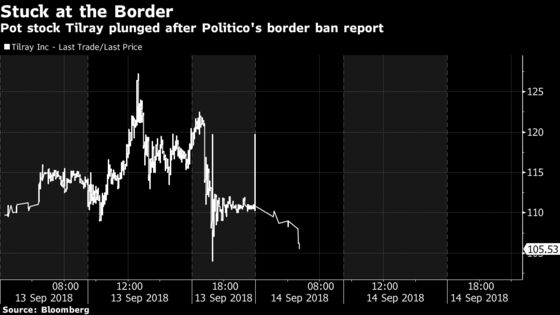 Speaking of wild moves, keep an eye on the recent Chinese ADR IPOs, which are starting to surge upwards like we saw several months back with names like HUYA, iQIYI, and Bilibili. Except this time around, we're talking names like NIO (up 20% pre-market after yesterday's 76% rip) and Pinduoduo (rallying 52% in the past three days, with Goldman's buy initiation responsible for yesterday's leg up). The latest addition to the group is Qutoutiao, which just priced its ADRs overnight and could see similar volatility if this phenomenon continues to take force.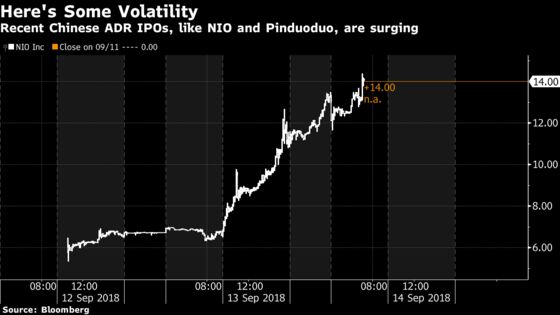 It's looking to be a fairly quiet week on the micro level as we get closer to the end of the quarter. That's not to say it won't be busy, because there's still plenty of things to hammer out on the trade front, like when the new higher-level U.S.-China trade talks are going down (Trump said yesterday that "we are under no pressure to make a deal with China, they are under pressure to make a deal with us," followed by "If we meet, we meet?") or where we are with the Nafta deadlines.
On the economic data front, we'll get a big dump of housing data, which may be eyed more closely by traders after Thursday's brutal morning session. You can thank Ivy Zelman's research firm for the damage, after their analyst warned on orders for the third quarter after a disappointing survey for the month of August.
As for the companies, the two big earnings that every tech investor needs to circle on their calendar are cloud software company Red Hat on Wednesday and key semiconductor name Micron on Thursday. Recall that last quarter, Red Hat's forecast misstep led to a 14% selloff in the stock and stopped the rally in everything tied to momentum dead in its tracks (albiet for only a couple weeks).
With Micron, whatever they report and say should be dissected rather closely as the recent weakness in the chip stocks is one of the biggest, if not the biggest, sector story in the markets right now -- and Micron is among the worst performers in the SOX for months now -- a three-month pair trade of buy AMD, sell Micron would have been one heck of a lottery ticket winner (see chart below).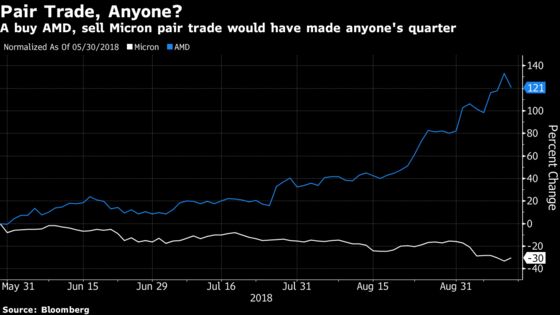 We'll also get earnings from FedEx, Oracle, and General Mills in addition to company meetings from Alibaba (more interesting than ever given Jack Ma departure news and the selloff in all the BATs), Dell Technologies (deal stock with involvement from Icahn), Danaher, BorgWarner, Ferrari, and Blackstone.
Notes From the Sell Side
In the tech space, Needham lifts its price target on Nvidia to a Street high $350 after hosting a meeting with management ("We see striking parallels between NVIDIA's dominance in AI/ ML and the "Wintel" platform during the era of PC computing"). Elsewhere, Citi upgraded Corning to a buy and matched a Street high target of $40 on optimism over margin and core earnings expansion thanks to optical demand strength and better display pricing. Goldman says the impressive "Call of Duty" beta bodes well for Activision's fourth quarter.
Meanwhile, hedge fund hotel Impinj's 33% post-earnings rally is getting some shade from the Street, with Morgan Stanley saying the rebound "has gone too far" while Needham attributed much of the rip to short covering and says much of the good news appears priced into the shares.
After several oil service guide-downs for the third quarter, Citi asks who's next and concludes FTS International, Core Labs and U.S. Silica have negative revision risk due to slowing completion activity in the U.S.
And shoutout to Derek Archila, the biotech analyst at Stifel who issued a bunch of initiation notes where the titles were all Aerosmith songs, from "Livin' on the Edge" and "Rag Doll" to "Back in the Saddle," "Same Old Song and Dance," "I Don't Wanna Miss a Thing," and much more.
Tick-by-Tick Guide to Today's Actionable Events
Today -- TEVA potential update from FDA on fremanezumab
7:30am -- WFC at Barclays global financial services conference
8:00am -- PLAY earnings (roughly)
8:00am -- I at Goldman Communacopia conference
8:30am -- Retail Sales
8:50am -- S at Goldman Communacopia conference
9:00am -- Fed's Evans speaks at economic forum in Indiana
9:00am -- PLAY earnings call
9:15am -- Industrial Production, Import Price Index
9:20am -- TEVA, ABC at Morgan Stanley global health care conference
9:55am -- JNJ at Morgan Stanley global health care conference
10:00am -- University of Michigan Sentiment, Business Inventories
10:00am -- Fed's Rosengren speaks at Brookings Conference
10:10am -- ANGI CEO Chris Terrill on Bloomberg TV
10:30am -- CRTO at Goldman Communacopia conference
11:40am -- CELG at Morgan Stanley global health care conference
11:45am -- NSC, GT at Morgan Stanley Laguna conference
12:15pm -- HUM, VRTX at Morgan Stanley global health care conference
12:30pm -- UTX at Morgan Stanley Laguna conference
2:45pm -- CAT at Morgan Stanley Laguna conference