Nordic Power Whale Losses Are Blow to World's Oldest Market
(Bloomberg) -- A big trading scandal was the last thing Nasdaq Inc.'s Nordic power market needed.
Once the kingpin of European electricity trading, activity on the world's oldest power market is languishing at its lowest level since 1999 after some of the biggest banks, hedge funds and industrial consumers deserted the market as tougher regulation made buying and selling too expensive and prices that were little changed for years.
Now, remaining members will have to pitch in to cover the losses of Einar Aas, historically one of the most successful traders, who was barred by the exchange this week after causing the biggest default since Nasdaq bought the market back in 2010. Household names still active in the market range from Glencore Plc to Citigroup Inc. and Citadel Energy Investments Ltd. to the Nordic region's biggest utilities Vattenfall AB and Fortum Oyj.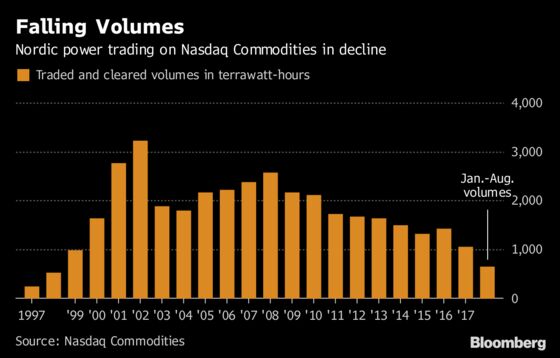 "It is sad to hear about it. And it is one big trader less," Hermund Ulstein, chairman of the Nordic Association of Electricity Traders, said by phone. The market now will have to move on without "Einar from Grimstad," he said, referring to the small town in southern Norway which has benefited from the nation's biggest tax payer in 2016.
Aas, active in the market for about two decades, had taken on a position that was too big in relation to the liquidity in the market, he said in a statement to Dagens Naeringsliv. After "extraordinary price changes" in the Nordic and German contracts, he was forced to pay the exchange his last free liquid funds. That wasn't enough and on Tuesday he was put under administration by the exchange. His portfolio was liquidated on Wednesday night.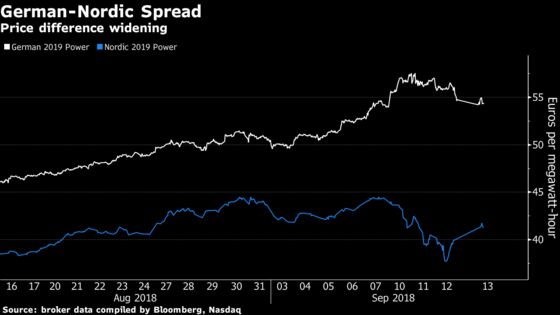 Aas didn't respond to voicemails seeking comment left on his office phone number listed in a Norwegian business directory. In 2016, he earned 833 million kroner ($122 million) and paid tax of 227 million kroner, according to DN.
The loss for Nasdaq's default fund, that helps guarantee trades, amounts to 107 million euros ($125 million) and the exchange has issued a "replenishment contribution request" to cover the default losses. Current trading members will have to contribute in relation to their size and this is the kind of event the default fund was designed to handle, a company spokesman said.
"Fortum expects Nasdaq to have adequate collateral and security arrangements at all times and we will monitor the situation carefully," the Finnish utility said on Friday. The company will pay 20 million euros into the fund, which will be booked as a financing cost for the third quarter.
While German power prices soared along with the rally in carbon emission allowances, contracts on the Nordic market went the other way this month after more rain was forecast to replenish hydro reservoirs at their lowest level in more than a decade after the hot and dry summer.
"We saw large market movements earlier in the week, with a very big spread between Nordic and German power prices," said Julia Haglind, head of Nasdaq Clearing. "This caused such a big loss in a portfolio that the member could not meet its margin anymore and was put in default."
Trading activity in the market has slumped as a combination of stiffer financial regulation made the cost of trading too high for many industrial companies and smaller utilities. Stable and low prices also made limited opportunities to make money and traders turned their attention elsewhere as the market was surpassed by the Germany as the most liquid platform.
No criminal activity was suspected and no end-user was in risk of losing their electricity supply, Nasdaq said.
"Of course a situation such as this is never good," Nasdaq said in a statement to Bloomberg. "We will now work together with our members to maintain fair and orderly markets."