Metro Is Weighing a Stake Sale, Partner for China Operations
(Bloomberg) -- As Metro AG moves toward selling its retail unit to focus on wholesaling, one of its first steps is to weigh the fate of those operations in China.
The company said late Thursday that it's putting Real, the struggling domestic big-box chain, up for sale. Dusseldorf, Germany-based Metro is also reviewing options for its Chinese Cash & Carry operations, people familiar with the matter said on Friday.
Since its electronics retail business split off last year to become Ceconomy AG, Metro has continued to struggle on the retail side, which has had difficulty competing with discounters such as Aldi and Lidl. Now, as a group of eastern European investors eyeing the company have begun buying shares, Chief Executive Officer Olaf Koch faces the difficult task of selling Real and seeing if any deal can be reached for the China unit.
Options for the China business range from offloading a minority stake to finding a strategic partner or forming a joint venture, the people familiar with the matter told Bloomberg, and Metro may also choose to keep its full holding. Analysts are now skeptical the sale of Real will bring brisk interest.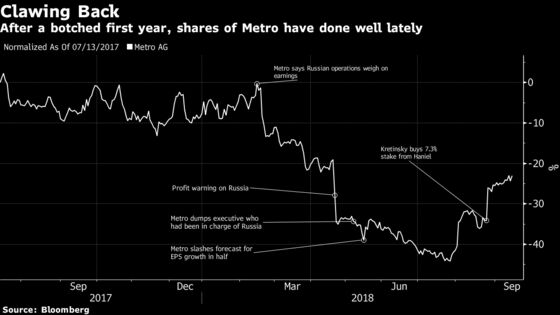 Unfavorable labor costs and the size of Metro's 282 German hypermarkets, a combination of supermarkets and department stores, may make the unit a tough sell, analysts said. Such a transaction could take years and force Metro to accept a low price or pay for additional restructuring first in order to improve the business's margins.
"We believe the decision to part ways with Real is due to pressure from investors, after the shares performed so poorly," Lars Lusebrink, an analyst at Independent Research, said in a note. While strategically sensible, it also comes as a bit of a surprise, the analyst said, after management hammered out a new labor deal and voiced confidence on the unit last month.
Metro's Cash & Carry business in China spans 93 stores and reported 20.3 billion yuan ($3 billion) of revenue in fiscal 2017, according to the company's website.
A depressed valuation in August prompted Czech billionaire Daniel Kretinsky and Slovak investment partner Patrik Tkac to buy a 7.3 percent stake from Metro's largest investor, Franz Haniel & Cie., in a deal that may eventually include buying out the remaining 15 percent stake. Kretinsky is seeking another 9 percent of Metro that ended up with sister company Ceconomy, a stake that other investors also inquired about, meanings a takeover offer, or even a bidding war, may loom for Metro.
All that helped Metro recover losses and drive out short sellers, after the shares lost more than 40 percent in the 12 months following the split. On Friday, they rose as much as 4 percent on the news.
Metro CEO Koch said he had not spoken with Kretinsky about selling Real, and that a sale should be completed in six to eight months.