Hedge Funds Are Paying More to Bet Against France's Casino
(Bloomberg) -- Hedge funds are paying more for their bearish wagers on Casino Guichard-Perrachon SA as short positions in the French grocer reach a record high amid mounting concern over its debt levels.
Annualized borrowing rates for Casino shares have risen to more than 500 basis points this week, compared with about 35 basis points at the beginning of August, according to IHS Markit Ltd. Short interest touched a record 18.5 percent of shares outstanding on Sept. 12, data compiled by Markit show. Short sellers borrow stock to sell, with the aim of buying it back at a lower price.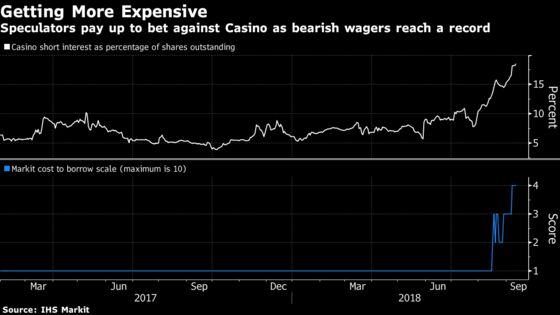 Increased appetite to bet against the shares shows the mounting pressure on the company amid concerns surrounding debt levels at both Casino and its parent Rallye SA, as well as the difficult operating climate for French retailers. The stock slumped 22 percent last month following criticism from analysts at Sanford C. Bernstein and Credit Suisse, as well as from short seller Muddy Waters. A rout in emerging-market currencies hasn't helped, because Casino gets more than 40 percent of its revenue from Latin America. The shares have rallied 18 percent so far in September.
In an email that questioned the timing of the short positions, Casino said investors are concerned that "attacks, using incorrect information, could push the stock lower." It added that the grocer "is focused on delivering its disposal plan and reducing its debt level."
Casino's debt is also being targeted for negative bets. The amount of bonds that have been sold short surged by about 130 million euros ($152 million) since the start of last month and is currently at 364 million euros, Markit data show. That compares with 77 million euros in Rallye's euro-denominated bonds, an increase of just 470,000 euros since the beginning of August.
It's still more expensive to short Rallye's shares than Casino, with an annualized borrowing fee of more than 1,000 basis points, according to Markit. Rallye is Casino's biggest shareholder with a more than 50 percent stake in the company as of March 9, according to Casino's latest annual report.