Deutsche Bank Stock-Trading Head Says He's Playing Moneyball
(Bloomberg) -- Deutsche Bank AG's global head of equities is seeking inspiration from a legendary baseball team as he looks to overturn a three-year rout of the business with a shrinking budget.
"We're more like the Oakland A's than the Yankees. It's more of a Moneyball approach to bringing people in, and it's working," Peter Selman said in an interview at Deutsche Bank's U.S. headquarters in New York, referring to the technique of building a winning team of underrated players rather than stars.
Selman, a former Goldman Sachs Group Inc. partner, came out of retirement last year to revive Deutsche Bank's flagging equities business, which has reported year-over-year declines in revenue for 12 straight quarters. On Friday, he named Ashley Wilson and Brad Kurtzman as co-heads of equities trading to oversee all product lines within the business, according to an internal memo seen by Bloomberg.
Moneyball is a reference to Michael Lewis's book and the 2011 Hollywood movie that followed, chronicling how Billy Beane of the Oakland Athletics used quantitative analysis to find underrated players, with a budget dwarfed by what franchises such as the New York Yankees could afford to spend on stars. Beane's team went on to post a record 20-game winning streak in 2002.
Deutsche Bank Chief Executive Officer Christian Sewing similarly gave Selman a tightened budget to work with as they seek to reverse a slump in the equities business that dates back to 2015. Since then, the unit has struggled with management changes, clients' fears over the firm's stability and a lack of volatility in markets. After taking over in April, the CEO announced a revised strategy that includes shrinking the equities business globally.
The firm was ranked the No. 6 investment bank by global revenue at the end of 2017, according to Coalition Ltd. In equities, it wasn't among the top five. Second-quarter stock trading revenue slipped 6 percent to 540 million euros ($630 million).
Selman said the team is "trying to optimize our headcount for efficiency," while investing in electronic trading capabilities to stay competitive. "It's not only one-way traffic by any means. We continue to add in areas of growth."
Greg Bunn, a co-head of the prime finance business, is leaving Deutsche Bank, according to people familiar with the matter. He didn't immediately respond to a request for comment. Separately, the bank said it's also renewed the contract of investment bank head Garth Ritchie.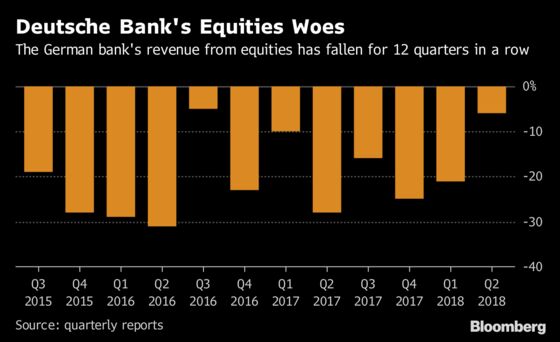 "As our Q2 results have made clear, we are making significant progress in reorienting our equities business to focus on sustainable profitability," Selman wrote in the memo. "While our strategy hasn't changed, we need to refocus our resources to our core strengths to boost revenues and profits and we need to take decisions faster."
Deutsche Bank's second-quarter decline in revenue from equities trading was one of the worst performances among global lenders. U.S. banks including JPMorgan Chase & Co., Citigroup Inc. and Bank of America Corp. reported double-digit gains for the same period. The derivatives and cash equities parts of Deutsche Bank's equity business lost revenue while income from hedge funds was higher as a result of better margins, Chief Financial Officer James von Moltke said in July.
The bank also said in its second-quarter report that it expects its equities division to record lower annual revenue this year as the announced cuts unfold. The measures will drive up profitability "in the medium term," it said. The unit generated 2.23 billion euros in revenue last year, an 18 percent drop from a year earlier.
Selman also named global co-heads of the various businesses within equities, according to the memo. Matt Bowen and Angus Yang will be co-heads of prime finance, the division that caters to hedge fund clients.
The bank is making a pitch to hedge funds and other institutional clients to be their top European prime brokerage, even as the German lender trimmed staff in that unit and scaled back balance sheet resources. The firm is seeking to retain business where it can generate a sufficient return, and met with top New York funds last week, people familiar with the matter told Bloomberg News.
Here are some of the other appointments outlined in the memo:
Mark Chen and Remy Ripoll will run equity derivatives, the contracts that derive their value from underlying shares
Karim Moussalem and Richard Chung will run cash equities, the trading of common shares
Rick Saunders is chairman of European equities
Kurtzman and Wilson will continue to hold roles as heads of equities in the Americas and Europe, respectively. Richard Chung is head of Asia Pacific equities.
In a separate memo, Deutsche Bank also outlined changes to its electronic trading capabilities, naming Torsten Schoeneborn as global co-head of electronic equities, alongside Ryan O'Sullivan. Brent Thygesen was named to lead the business in the Asia-Pacific region.