UPS Tumbles After $1 Billion Savings Goal Disappoints Investors
(Bloomberg) -- United Parcel Service Inc. investors have their doubts on whether they're getting their money's worth from the courier's ambitious investment plan to boost efficiency and handle the rise of online shopping.
The shares dropped after the company said it would reap only $1 billion of annual cost savings from the spending spree on automated sorting centers, new cargo jets and headcount reductions through early retirement. Shareholders were looking for a target of $1.5 billion or more, Kevin Sterling, an analyst at Seaport Global Holdings, said earlier this week.
UPS is investing as much as $7 billion this year to contend with the surge in e-commerce that's transforming the delivery business, which the company has dominated for much of its 111-year history. Single-package deliveries to homes aren't as profitable as multiple shipments to businesses, heightening pressure on UPS to make its network more efficient. Capital spending will remain at elevated levels the next two years, the company said.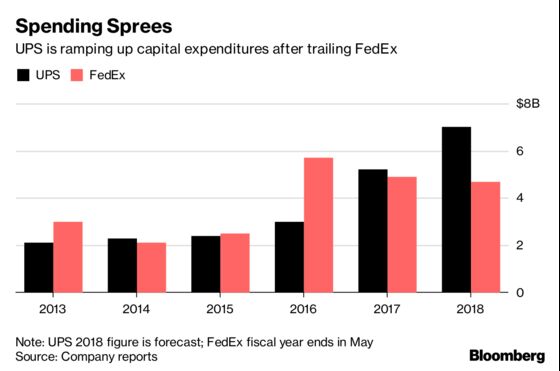 "This transformation is now," Chief Executive Officer David Abney told analysts at an investor presentation Thursday in New York. "There's not a shortage of opportunities, you just have to be willing to run your company different to get those opportunities.''
The shares fell 2.9 percent to close at $119.70 in New York, the largest drop since June 25. UPS has climbed just 0.5 percent this year, while rival FedEx Corp. advanced 1.5 percent and a Standard & Poor's index of industrial companies rose 3.2 percent.
UPS said it would incur one-time charges of between $550 million and $750 million for the plan. The company also plans to focus on more profitable small-business and health-care customers.
Investment will range between 8.5 percent and 10 percent of sales in 2019 and 2020, the Atlanta-based company said. That implies spending of about $6.5 billion to $7.6 billion next year, based on the average of analysts' revenue estimates compiled by Bloomberg. The total investment would be at least $20 billion for the three years through 2020.
UPS expects to add sorting capacity of as much as 400,000 pieces an hour this year and the next two. After the investment, all packages will be processed through new, automated centers, up from about 50 percent now. The added capacity will help UPS capture more volume amid a forecast for the U.S. package industry to boost revenue by 40 percent from 2017 to 2022.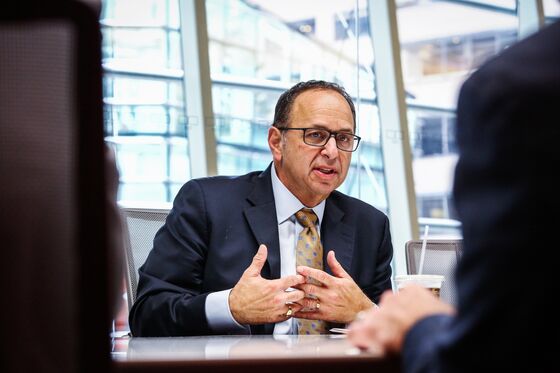 About two-thirds of the transformation will affect U.S. operations, according to Chief Financial Officer Richard Peretz. The projected $1 billion is based on the plan the company laid out to investors and could increase, he said in an interview at Bloomberg's New York headquarters.
"We still have dozens of other initiatives and we think that those initiatives could help push us either to the top or beyond the range, but we're not ready to go all the way there right now," Peretz said.
The company forecast that the plan will add $1 to $1.20 a share to adjusted earnings by 2022, mostly from cost savings. UPS posted profit of $6.01 a share last year.
The parcel-delivery giant is trying to protect average operating profit margin of about 13 percent over the past five years and a five-year average return on invested capital of 24 percent, more than double that of FedEx.