U.S. Core Inflation Unexpectedly Cools as Apparel Costs Drop
(Bloomberg) -- A gauge of underlying U.S. inflation unexpectedly cooled in August as apparel prices fell by the most in about seven decades and medical-care costs declined, suggesting little urgency for the Federal Reserve to speed up the pace of interest-rate hikes.
Excluding food and energy costs, the core consumer price index rose 2.2 percent in August from a year earlier, compared with the 2.4 percent median estimate of economists surveyed by Bloomberg News, a Labor Department report showed Thursday. The broader CPI slowed to a 2.7 percent annual gain from 2.9 percent.
Yields on 10-year Treasuries and the dollar were lower, while stocks rose, as investors weighed the outlook for Fed interest-rate increases following the data. While the moderation partly reflects a near-record 1.6 percent monthly drop in apparel prices, a component that tends to be volatile, the broader slowdown follows a surprise decline in producer prices and suggests the path of inflation could be softer than some people expect.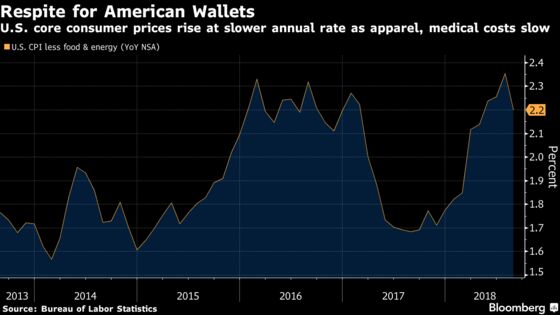 "The broader trend in inflation is that it's moved higher from where it had been, but any worry of an outbreak or idea that inflation will break out -- this data casts some doubt on that," said Kevin Cummins, senior U.S. economist at NatWest Markets.
At the same time, "I'd look past the weakness" in retail prices, Cummins said, adding that the report "doesn't really change the calculus from the Fed's perspective -- it keeps them on a gradual pace" of rate increases.
Fed policy makers are widely expected to raise interest rates later this month and have also penciled in a fourth move this year, though a more persistent slowdown in inflation could affect their outlook. Freight costs and rising wages, along with tariffs and counter-levies, may keep putting upward pressure on inflation. The Fed will publish officials' updated economic and rate forecasts on Sept. 26.
In positive signs for the economy, a separate Labor Department report on Thursday showed that filings for unemployment benefits fell last week to a 48-year low, underscoring a tight job market. The Bloomberg Consumer Comfort Index rose for the first time in five weeks.
The cooling of price gains, along with what last week's jobs report showed was the fastest wage increase since 2009, meant inflation-adjusted hourly pay rose 0.2 percent from a year earlier, following a 0.1 percent decline in July.
What Our Economists Say
The downside miss in the August core CPI and moderation of the year-on-year change in both the headline and core serve as potential warning signals that it may be too soon for Fed officials to declare mission accomplished with respect to sustainably achieving their inflation mandate. This certainly will not impact the Fed's rate decision later this month, but it could lead policy makers to avoid signaling a clear runway for December.

-- Carl Riccadonna and Yelena Shulyatyeva, Bloomberg Economics

Read more for the full reaction note.
The core CPI rose 0.1 percent from the prior month, compared with the median estimate of economists for a 0.2 percent gain, and followed an annual increase of 2.4 percent in July. The broader CPI was up 0.2 percent, less than forecasts for a 0.3 percent increase. It was expected to rise 2.8 percent from a year earlier.
Besides apparel, the index for medical care fell 0.2 percent for a second month. The shelter category, which accounts for about one-third of the CPI, showed a 0.3 percent gain, in line with recent increases. Prices of new automobiles were unchanged, the first month without a gain since April, while used cars and trucks rose 0.4 percent.
Airfares rose 2.4 percent following a 2.7 percent advance in July, amid higher fuel prices, one of the biggest costs for airlines.
The Fed's preferred gauge of inflation -- a separate consumption-based figure from the Commerce Department -- came in above the central bank's 2 percent goal in July, and the figure tends to run slightly below the Labor Department's CPI. August numbers are due on Sept. 28, after the Fed's two-day meeting.
Seasonally adjusted gasoline prices increased 3 percent in August from the prior month, the most since April, and were up 20.3 percent over the past 12 months.