Sky Auction Prompts Fox and Comcast to Negotiate Rules
(Bloomberg) -- 21st Century Fox Inc. and Comcast Corp., locked for months in a takeover battle for British broadcaster Sky Plc, are now in discussions to settle the rules of engagement for the final standoff.
The contest between the U.S. media giants for the London-based pay-TV company is drawing to a close. If neither drops out by Sept. 22, the companies head to an auction overseen by regulators, according to U.K. takeover rules.
It's a rarely used tool to help settle corporate sales in the U.K. that comes with a standard set of procedures set out by the nation's Takeover Panel, which can be refined as requested by bidders. The auction is slated to last five days, unless the parties agree otherwise.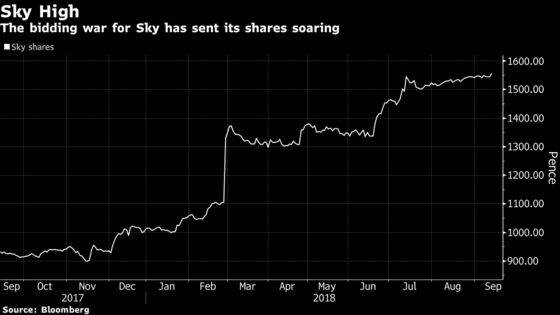 As a likely auction approaches, Fox, Comcast and Sky are negotiating how the process should play out, according to people familiar with the matter. The terms could include things like how long the auction will be and how many bids a party can make, said one of the people, who asked not to be identified because the discussions are private. Regulators are expected to lay out the rules in the coming week, they said.
Representatives for Fox and Comcast declined to comment, while a Sky spokesman didn't immediately respond.
Sky, with 23 million customers across five European countries, has been in play since December 2016, when Fox bid for the 61 percent of the company it doesn't already own. It was Rupert Murdoch's second attempt at taking full control of the satellite provider he founded.
As the regulatory review dragged on in Britain, the corporate story became more interesting late last year, with Fox becoming a target of both Walt Disney Co. and Comcast. Then Comcast complicated matters further by bidding directly for Sky in February.
Disney eventually won the fight for Fox in July with its $71 billion bid, at which point Comcast walked away. That left Sky as the last bit of the Murdoch empire left for Disney Chief Executive Officer Bob Iger and Comcast CEO Brian Roberts to quarrel over.
Sky offers both U.S. companies scale, reach and technological expertise as they face off against digital rivals like Netflix Inc. and Amazon.com Inc.
Comcast currently has the highest offer on the table for Sky, at 14.75 pounds a share, a bid that the Sky board has recommended. Fox's latest offer is for 14 pounds a share. Still, Sky shareholders are expecting to get paid much more: The stock rose 1 percent as of 8:40 a.m. in London to about 15.72 pounds a share, valuing the company at 27 billion pounds ($35 billion).
Neither bidder is likely to attract meaningful investor support until the auction settles on best and final bids from both companies. As of Wednesday, less than 1 percent of Sky shareholders had tendered to Comcast offer, the company said in a regulatory filing.
Logic would dictate that shareholders will tender to the bidder offering the highest price. However, if the valuations are close, it's possible that shareholders will opt for the bidder that can more easily sweep up enough tenders, potentially giving Fox the upper hand.
With 39 percent of Sky's existing shares, Fox has a lower bar to reach the simple majority that could give it control of Sky. Should Comcast persuade a majority of Sky holders to tender, however, it could still end up with its battleground rival Fox -- and eventually Disney -- as the other major owner of the U.K. company.