Roche CEO Refuses to Cede Cancer's Hottest New Field to Merck
(Bloomberg) -- Roche Holding AG is refusing to cede the hottest new area of cancer care to Merck & Co. despite trailing its U.S. rival.
Merck's immune therapy Keytruda has dominated the market, with analysts predicting it will deliver more than $10 billion in annual sales by 2020. Roche still believes it can be a leader in the field of drugs designed to unleash the body's immune system against tumors, with positive results for its own contender Tecentriq coming at two conferences this fall, Chief Executive Officer Severin Schwan said in an interview.
"There's no doubt that Keytruda has now a head start, especially in lung cancer," Schwan said. "But this field will evolve, and we clearly want to be a leading player."
The Swiss company is facing a moment of truth, with competition from cheaper biosimilar copycats looming for its three biggest drugs, responsible for 40 percent of last year's sales. Roche has pledged to grow through the transition. It has diversified outside of cancer to do so, introducing a new multiple sclerosis medicine that's on track to exceed $2 billion in sales this year and challenging the leaders in the lucrative hemophilia market.
But in its core field of cancer care, Roche has struggled to keep up with Merck. Excellent early data in a widespread type of lung cancer -- the most common form of tumor -- gave Merck a head start with doctors. Tecentriq, meanwhile, is facing a three-month delay in the U.S., where regulators are taking more time to evaluate a combination with Roche's older blockbuster Avastin for lung cancer patients. Investors expect Keytruda's sales to be more than eight times as high as those of Tecentriq this year.
Diverging sentiment is reflected in the companies' shares. Merck is the fifth-best performer in the Dow Jones Industrial Average with a 24 percent increase this year. Roche has returned 1.2 percent in the same period.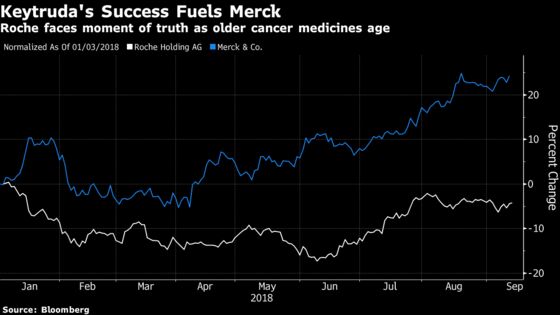 Roche sees an opening in other types of cancer, including breast, liver and a less common form of lung tumor, according to Schwan. Those potential successes, together with demand for multiple sclerosis drug Ocrevus and a delay in biosimilar competition for aging blockbuster Rituxan in the U.S., have put Roche in a better position than initially expected, the CEO said.
"My confidence level over the last 12 months, in particular this year, has gone up sharply," Schwan said. "I'm much more relaxed today than I would have been at the beginning of the year."
If some drugs in late-stage patient trials now are successful, that would provide even more of a boost, he said. Roche started a presentation for investors about its late-stage pipeline at 2 p.m. Zurich time Thursday.