New Jersey Edges Toward Wind Farms Off Its Tourist-Prized Shores
(Bloomberg) -- New Jersey is taking a step closer to erecting wind turbines off the coast of some of its most storied beaches.
State regulators are about to consider Governor Phil Murphy's proposed solicitation for 1.1 gigawatts of offshore-wind farms. The process will begin Sept. 17, subject to approval by the state's Board of Public Utilities, Murphy said Thursday at the Global Climate Action Summit in San Francisco. Efforts to build offshore wind off Atlantic City stalled under Murphy's predecessor, Governor Chris Christie. Now, Murphy aims to add 3.5 gigawatts by 2030.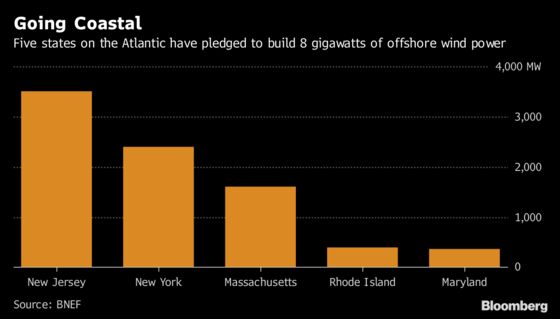 "We're the natural offshore wind state," he said in an interview. "It's the amount of the wind that blows on our shores, plus the reality of the offshore shelf of the depth."