Russia Skips Bond Sale for Second Week as Sanctions Noise Grows
(Bloomberg) -- Russia's Finance Ministry said it will cancel this week's regular sale of ruble bonds after an emerging-market rout and expectations for deeper U.S. sanctions drove borrowing costs to the highest level in more than two years.
The cancellation means Russia will fail to sell ruble sovereign bonds, known as OFZs, for two weeks in a row for the first time since the 2015 oil-price crash. Last week, the Finance Ministry went ahead with its Wednesday bond auction, but decided not to sell at the prices on offer.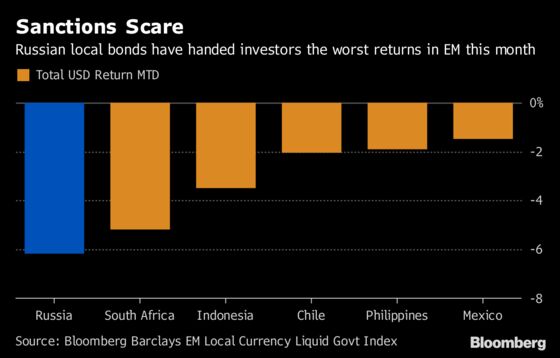 Investors have been cutting exposure to Russian debt in recent months as a precaution against U.S. sanctions aimed at punishing the Kremlin for election interference. While some of the harshest measures under discussion are likely to be toned down before a bill is finalized later this year, the threat of curbs on sovereign debt sales and tougher limits on some of Russia's biggest banks is enough to keep traders away.
The Finance Ministry cited market volatility in its decision not to hold the auction, according to a statement posted on its website. Alexander Losev, chief executive officer of Sputnik Asset Management, cited an unstable currency market, local-bond sales by foreigners and generally negative sentiment toward emerging markets.
"OFZ yields aren't high enough to match the growing risks, but they've climbed too far to suit the Finance Ministry as issuer," Losev said.
Yields on OFZs maturing in 10 years jumped above 9 percent for the first time since early 2016 this month. The bonds recouped some of their recent losses on Tuesday, with the yield dropping for the first time in six days.
Russia will avoid pressuring the yield curve as it plots its fundraising strategy through the rest of the year, Konstantin Vyshkovsky, head of the Finance Ministry's debt department, said last week. A "miserly" 1 billion rubles ($14 million) of bonds remains to be redeemed by the end of the year, he said, meaning there's little pressure on the ministry to push ahead with sales during times of turbulence.