Nissan Says America's Car Market Has Finally Hit Bottom
(Bloomberg) -- U.S. car sales may have ended their long slide, partly because rising interest rates and gasoline prices are reminding consumers that they're cheaper than comparable crossover utility vehicles, the head of Nissan North America said Tuesday.
"This is still a big market" of 5 million to 6 million new cars sold annually in the U.S., Denis Le Vot said in an interview. "We think it has hit bottom."
Le Vot, chairman of Nissan Motor Co.'s North American operations, made the comment as he toured Detroit showing off the company's redesigned Altima sedan to reporters. The car, which goes on sale in a few weeks, is longer, lower and wider than its predecessor, and even the most inexpensive versions come with an array of first-ever options, including all-wheel-drive and a ProPilot Assist package to help with braking and steering on highways.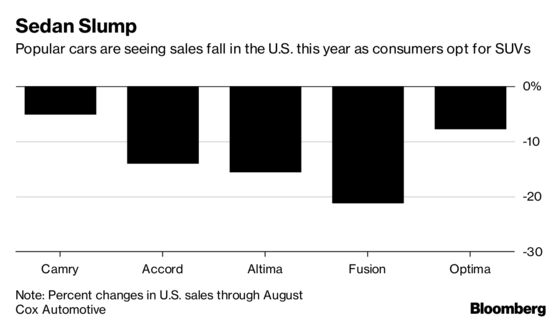 But even this formidable technology may not be enough to buoy Altima sales that have slumped 16 percent so far this year, despite heavy discounting. A case in point: Sales of Honda Motor Co.'s Accord have slumped 14 percent this year despite being recognized by journalists as North American Car of the Year in January.
Nissan fell 0.9 percent as of 9:46 a.m. in Tokyo, compared with a 0.4 percent decline in the benchmark Topix index. The stock has dropped 8.5 percent this year.
Le Vot is unperturbed by the Accord's struggle. He said he expects the car market to stabilize because supplies of used sedans are tightening and because younger buyers are less enamored with sport utility vehicles than their parents are.