Yet Another Smoking Alternative Isn't Better for You Than Cigarettes
(Bloomberg) -- British American Tobacco Plc hasn't produced adequate data to show its Camel smokeless tobacco pouches are a less risky alternative to cigarettes, according to U.S. regulators, a sign the company may face hurdles as it attempts to develop less-harmful products.
Although Camel Snus have lower levels of some potentially harmful chemicals compared with cigarettes, they contain higher amounts of arsenic, cadmium and nicotine, said Food and Drug Administration staff in a briefing document posted online on Tuesday. Those levels "may result in increased user exposures to carcinogens and other toxicants that may subsequently increase the risk for cancer, heart disease and reproductive or developmental effects," FDA staff said.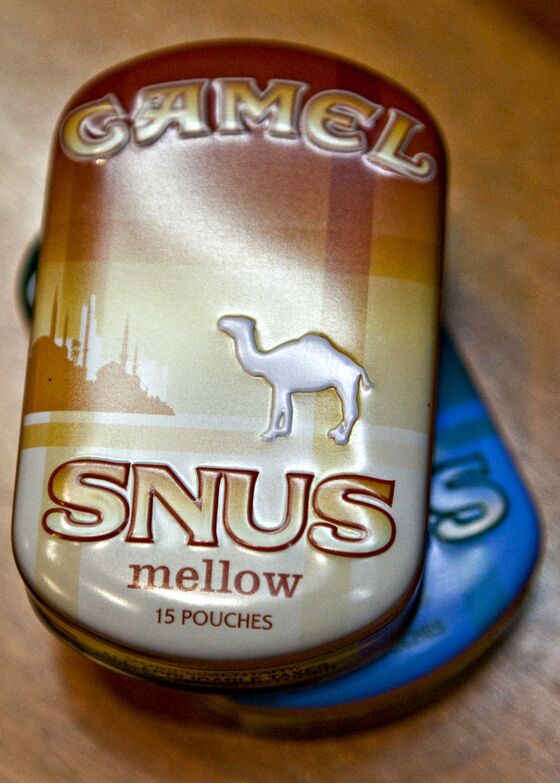 FDA staff concluded that the data submitted "did not demonstrate potential for reduced exposure from the six Camel Snus products as compared to cigarette smoke."
At a meeting scheduled for later this week, outside experts are expected to advise the agency on whether to allow Camel Snus to be advertised as reducing the risk of smoking-related diseases. British American acquired Reynolds American Inc., the maker of Camel products, last year.
Camel Snus are fleece pouches that contain smokeless, finely ground tobacco. Introduced in the U.S. in 2009, they are sold in 15-pouch tins with labels like Frost, Winterchill and Robust, according to Reynolds' website. Unlike dip or snuff, Snus typically don't require users to spit.
FDA staff raised concern that Reynolds hadn't submitted enough information about the ingredients in different flavors to allow the agency to determine whether they might affect absorption of potentially harmful chemicals. They also said the studies the company submitted on the risks of Snus contain shortcomings.
"The submitted clinical studies did not demonstrate that smokers who switch completely from cigarettes to the six Camel Snus products reduce their overall health risks from smoking or their specific risks of lung cancer, oral cancer, respiratory disease, and heart disease, nor were they designed to do this," according to the briefing document.
BAT didn't immediately respond to a request for comment on the report.
BAT and Reynolds have invested $2.5 billion since 2012 to develop potential reduced-risk products, according to BAT's 2017 annual report, as big tobacco companies attempt to diversify beyond traditional cigarettes. At the same time, FDA Commissioner Scott Gottlieb has been exploring regulations that would cut nicotine in cigarettes to nonaddictive levels -- a move that could drastically alter the industry.
Congress gave the FDA authority to regulate tobacco products in 2009. The agency hasn't yet given any company the ability to market a cigarette alternative as less risky than smoking.
The FDA denied a request in 2016 from Swedish Match AB to ease warnings on its snus. Reynolds is proposing keeping the warnings while adding new statements about relative risk. Philip Morris International Inc. is awaiting an FDA determination on whether the company can claim that its iQos tobacco-heating device cuts the risk of smoking-related diseases.
Reynolds proposed advertising that would indicate "smokers who switch completely from cigarettes to Camel Snus can" significantly or greatly "reduce their risk of lung cancer, oral cancer, respiratory disease, and heart disease." It also proposed more conservative marketing that mentions only lower risk of lung cancer and respiratory disease.
The application FDA is considering is based on U.S. and Swedish studies that Reynolds says show people who use smokeless tobacco have lower health risks. Reynolds said Camel Snus expose users to fewer harmful chemicals than cigarettes. Overall, if even a small portion of current smokers switch to the product, there would be a "significant decrease in population-level mortality," according to Reynolds's application.