Singapore's Builders Seen Facing Debt Troubles Amid Curbs
(Bloomberg) -- Singapore's small construction firms are likely to face more difficulties repaying debt as a clampdown on property speculation worsens their already tight liquidity.
Any slowdown in demand for homes is likely to hurt the construction sector, which accounted for 12.3 percent of Singapore's employment in 2017. Small domestic builders are especially vulnerable because they face issues including thin margins, according to EY.
Many of the firms are probably affected by rising interest rates on their borrowings, while delays in collections from customers "would result in tight liquidity and potentially difficulties in repaying their loans," according to Angela Ee, a Singapore-based partner at EY.
Cracks were already emerging prior to the curbs. Singapore-listed Ryobi Kiso Holdings Ltd., which specializes in piling, said in June that its subsidiary was unable to meet repayment obligations.
Property developers are likely to squeeze construction firms in an attempt to maintain margins, resulting in "headwinds," according to Simon Jong, head of fixed-income research at DBS Group Holdings Ltd. Bigger firms often contract out projects to smaller building companies in Singapore.
The property curbs have already hurt the bonds of smaller Singapore developers. Oxley Holdings Ltd.'s $355 million of notes due in 2021 have slumped 9.4 cents on the dollar this year to 90.5 cents, according to Bloomberg-compiled prices. Its shares fell as much as 3 percent to S$0.33 on Tuesday, matching the lowest since January 2017.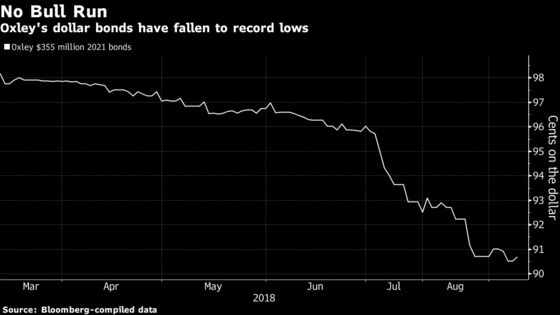 Bonds sold by Singapore-listed Chip Eng Seng Corp., which built the tallest public housing project in Singapore, The Pinnacle @ Duxton, have also declined. Its Singapore-dollar debt due in 2022 has fallen 6.4 cents this year to 96 cents. Its shares fell 2.3 percent to S$0.84 at 2:54 p.m. in Singapore on Tuesday, the biggest decline in over two months.
An executive at Chip Eng Seng declined to comment.
An external spokesman for Oxley Group wasn't immediately able to comment.
"Singapore developers with higher leverage may have less room to maneuver, in case they cannot sell their units," said Wong Hong Wei, credit research analyst at Oversea-Chinese Banking Corp., speaking generally. "I think the Singapore bond market looks shut out for a number of high-yield property companies unless they pay up significantly."