Naomi Osaka's U.S. Open Victory Earns Citizen Watch Bonus
(Bloomberg) -- U.S. Open winner Naomi Osaka is set to receive a bonus payment from sponsor Citizen Watch Co., which said it's also considering featuring the 20-year-old Japanese tennis star in television commercials after her dramatic win against former world No. 1 Serena Williams.
Leading up to Osaka's triumph during a controversial Saturday face-off in New York, Citizen received an increasing number of inquiries about the watch she was wearing at the tournament, said Noriyuki Mitome, a Tokyo-based spokesman for the timepiece maker. He declined to disclose details of the reward because the matter is private. Citizen shares rose as much as 1.3 percent, the most in almost two weeks, as of 9:01 a.m. Tuesday in Tokyo.
Osaka won the tournament and its $3.8 million prize in an upset victory against her long-time idol Williams -- on whom she did a school report in third grade. Despite a high level of play, controversy erupted when the chair umpire called a code violation against Williams after spotting her coach making a hand signal. Williams threw back heated barbs, saying "I don't cheat to win; I'd rather lose." Later, Williams smashed her racket in anger and demanded an apology from the umpire after he issued a point penalty. Calling him a "thief" earned her a third code violation.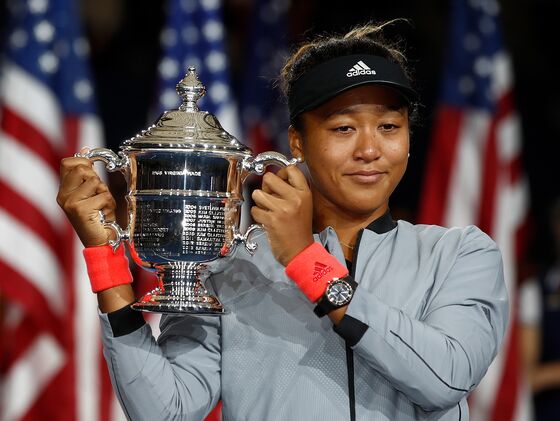 Winning the U.S. Open makes Osaka the first Japanese to take a singles championship at a Grand Slam, the sport's top four tournaments including Wimbledon, the French Open and the Australian Open. The historic performance has increased media exposure for Osaka, who already had endorsement contracts with dried noodle maker Nissin Foods Holdings Co. and Wowow Inc., a satellite and cable channel.
"When she was 15 years old, a watch she received from her mother as a present was Citizen's," Chief Executive Officer Toshio Tokura said in an emailed statement to Bloomberg. "We are very happy to see she was always wearing our watch on her way to victory."
Despite all the controversy, Osaka's strong serving helped carry her to victory on the court, even as crowds booed in support of Williams. At the podium following the win, Williams asked fans to stop booing and to celebrate Osaka's success. Williams has since called the umpire's calls sexist.