VW Could Succeed Where Musk Failed: With Mega-Buyout
(Bloomberg) -- Volkswagen AG is "hugely undervalued" and could be ripe for a buyout similar to that briefly considered by Tesla Inc., according to Sanford C. Bernstein & Co. analyst Max Warburton.
The analyst, channeling Tesla's mercurial CEO Elon Musk, published his idea on the German automaker in a report Monday headlined, "VW: Am considering taking VW private at EU420. Funding Secured." Musk proposed a Tesla buyout last month in a tweet using similar language, only to drop the plan citing insufficient investor support. VW has a market value of 68 billion euros ($79 billion).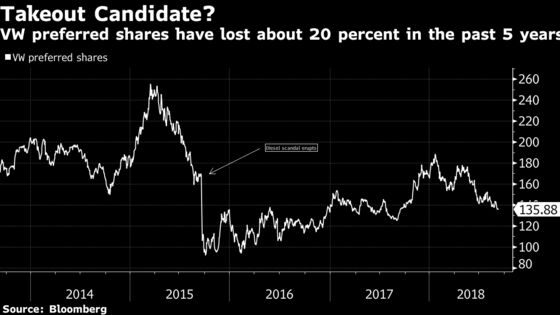 "I am not taking VW private," Warburton wrote. "But behind the humor is a serious message: We believe VW is hugely undervalued and ripe for an LBO. Unlike a certain cash-burning electric car company in the U.S."
Volkswagen didn't immediately respond to a request for comment on the potential to take the company private.
The carmaker's three big shareholders -- Porsche Automobil Holding SE, the German state of Lower Saxony and Qatar with a combined 57 percent -- could easily borrow 90 billion euros to finance an acquisition of the remaining stock at 420 euros a share, the analyst said. That's 210 percent above VW's current price, and the same level that Musk proposed for Tesla in dollars.
The buyers could immediately sell VW's financial business for 30 billion euros and the truck operation for the same amount, he wrote. They could also unlock 20 billion euros from VW's working capital by stretching out the length of time it takes to pay bills, to match the days payable reported by rival carmakers PSA and Fiat Chrysler Automobiles NV.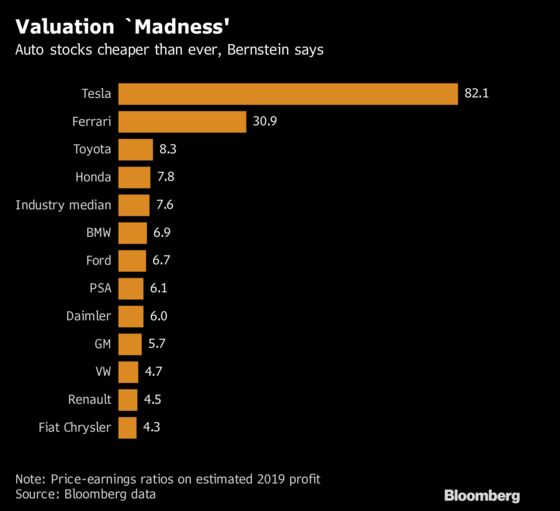 By the end of 2019, the debt would be down to 10 billion euros, and with VW's annual cash flow of more than 11 billion euros, it could be paid off by the end of 2020, he said.
At that point, the big three shareholders would have access to 100 percent of VW's cash flow and dividend-paying ability, the analyst said.
"Could VW's key stakeholders take VW private?" Warburton wrote. "Minority shareholders would surely be thankful. This company has lost almost all support and credibility with public equity investors. What about the Porsche family and Qatar? Would they be willing to lead an LBO? Since the maths of a deal work and it would increase their income, surely they'd see the appeal?"
Volkswagen shares have fallen about 20 percent over the past five years, weighed down by the manufacturer's diesel-emissions-cheating scandal and more recently by global trade tensions. The Stoxx 600 Automobiles & Parts Index, by contrast, has risen by 22 percent.
The company trades at 4.7 times next year's estimated earnings, compared with a median valuation of 7.6 times for the world's biggest carmakers. Chief Financial Officer Frank Witter last week described VW's stock performance as "a headache" and said valuations in the industry are "very, very low."
So what about that idea of a Tesla buyout? It is well and truly dead, Warburton said.
"We can state with confidence that no PE firm is going to take Tesla private," he wrote. "Not at a premium. Not at the current price. Not while it's losing money, burning cash and has no ability to service the debt needed. Perhaps at some future date, or if it's in Chapter 11, private equity might consider buying part of it. But it simply doesn't have the financials to support a buy out and finance debt, even at a much lower price."