Debt Collector Sees Signs Swedes Starting to Struggle With Loans
(Bloomberg) -- Europe's biggest debt collector says an increase in volumes in Sweden and Norway could be an early indication that households are starting to struggle paying off their consumer loans after debt burdens swelled to records.
Volumes under Intrum AB's existing credit-management services contracts in the two countries, in which it collects money from non-paying clients of financial institutions, grew by more than 15 percent in the first half of the year. That could indicate that households are getting increasingly stretched in terms of meeting their obligations on the unsecured consumer loans that Intrum specializes in, according to Chief Executive Officer Mikael Ericson.
"Such growth rates are interesting in markets characterized by economic stability and economic growth," Ericson said in an interview in Stockholm on Thursday. "We cannot rule out that the high household debt levels we see in Sweden and Norway are slowly starting to impact individual households, and that they, on the margin, are starting to be late with payments."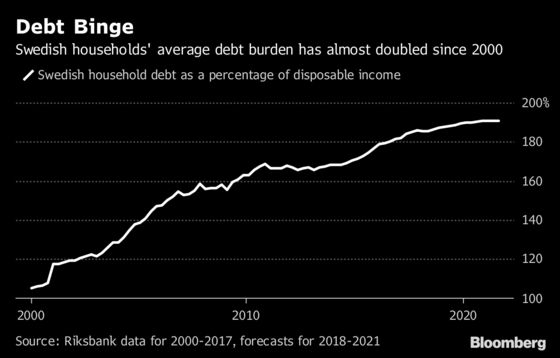 Swedish household debt burdens have soared in recent years, spurred by ever-rising home prices and record low interest rates, and the financial regulator, the central bank and the government have all warned of the threat they pose to the economy. Still, the buildup has not yet shown up in the balance sheets of Sweden's banks, which have some of the lowest credit-loss levels in Europe.
But if Intrum's data does indeed show that households' finances are getting more and more stretched, it could result in higher loan losses for the banks, Ericson said. "We're not there today though, far from it," the CEO said.
Sweden's banks had the second-lowest non-performing loan ratio in the European Union at the end of last year, behind only Luxembourg, according to data from the European Banking Authority. The ratio of 1.0 percent recorded in Sweden compares with an average of 4.0 percent across the EU.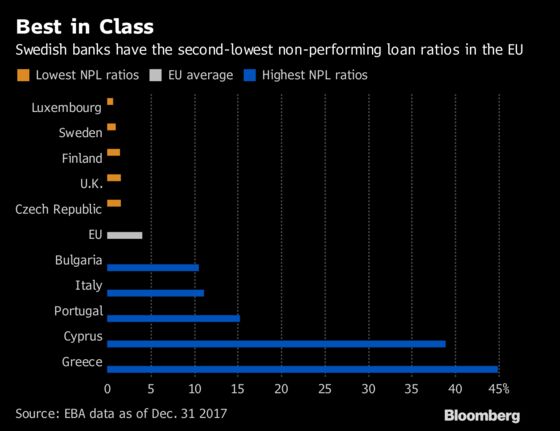 Still, Sweden's banks are aware that those low levels may not last forever, especially as central banks start unwinding years of loose monetary policy.
Johan Torgeby, the chief executive officer of Swedish lender SEB AB, said in a recent interview that the country's banks have in the past few years "just continued to have more or less no meaningful issues around credit quality" and that it's an area "where we don't really worry." But that could change when interest rates start to be normalized, he said.
"The real test will be what happens to the credit quality, to the activity among our clients in particular, when you don't have year-in and year-out ever higher house prices, share prices and bond prices, or falling rates on bond yields," Torgeby told Bloomberg in an interview on Aug. 24.
A Top Swedish Banker Savors the Moment Before Everything Changes
If credit losses start rising, it should alarm the financial watchdog and the government, which have taken steps to try to limit the debt buildup. Measures taken include capping mortgages at 85 percent of a property's value and introducing requirements to amortize on loans. Still, politicians have so far not touched rules that allow Swedes to deduct parts of their interest payments from their tax bills, which basically acts as an incentive to borrow money.
Any increase in defaults could also put spanners in the works for the central bank as it prepares to start raising rates for the first time in more than seven years. Such a move is likely to raise borrowing costs for households, most of which have floating mortgage rates. The housing market also late last year suffered its worst slump since 2008 due to a spike in the supply of newly built homes, and the Riksbank may choose to tread carefully if prices fall again.
Intrum's credit-management services focuses on collecting payments on unsecured loans, such as credit card debt or money borrowed to buy consumer goods. The growth rate for such loans has increased in recent years, with some households using such credit to help pay for the cash part of their home purchases following the introduction of the mortgage cap in 2010.