Danske Punished by Investors Hungry for Facts in Laundering Case
(Bloomberg) -- Danske Bank A/S has now become one of Europe's worst performing financial firms as investors balk at the lack of transparency around the lender's money laundering scandal.
At Kepler Capital Markets, the situation has prompted analyst Robin Rane to announce he's "throwing in the towel" and no longer advising clients to buy Danske shares. At Svenska Handelsbanken AB, analysts say they're reviewing their buy recommendation because they "do not have enough visibility" around the case. Jyske Bank analyst Simon Madsen calls Danske's laundering scandal a "black box."
Shareholders in Denmark's biggest bank appear to be losing their nerve. Last week, Danske suffered its worst selloff since July, driving the loss in its market value this year to almost 30 percent. Only Deutsche Bank AG and Commerzbank AG have performed worse in Europe.
Kenni Leth, the head of communications at Danske in Copenhagen, said, "We fully understand the extensive interest in the matter, which is why we have launched thorough investigations of the conditions in Estonia."
"However, we also believe it to be in the interest of everybody that conclusions are drawn on the basis of verified facts," Leth said in an emailed note on Tuesday. "As communicated yesterday, we are now finalizing the investigations and look forward to sharing the conclusions during next week."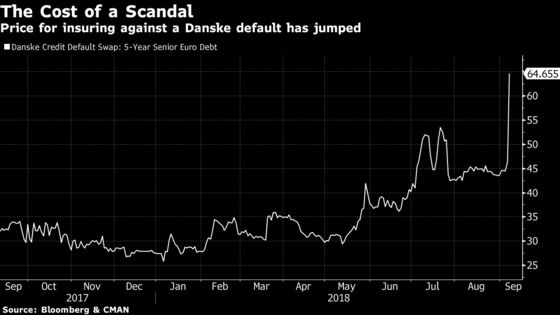 Danske is the target of criminal investigations in Denmark and Estonia after its operations in the Baltic country were allegedly used to launder as much as $9 billion in funds, mostly from Russia, between 2007 and 2015. The bank, which may face fines as big as $800 million according to Bloomberg analyst surveys, has repeatedly declined to provide a clearer picture of what happened until its internal analysis is published.
After months of telling investors and the media to hold off before drawing any conclusions about its laundering case, Danske said late on Monday afternoon it will publish the findings of its long-awaited internal probe on Sept. 19. But that announcement did little to resuscitate the stock.
Rane at Kepler said lessons learned from other banks dealing with similar allegations of financial crime "show us that banks with large potential contingent liabilities do not outperform while the case is ongoing."
In a client note to equity investors, Nordea Bank AB said it's bad news for Danske that fines for money laundering breaches have started to rise in recent years. But Nordea also said Danske is unlikely to have to pay a fine as big as 50 billion kroner ($7.8 billion), which is what is roughly priced in to the stock.
Last week, Danske Chairman Ole Andersen acknowledged that the amounts of money potentially linked to the laundering scandal appear to be bigger than first thought, but said only "verified facts" should be taken seriously.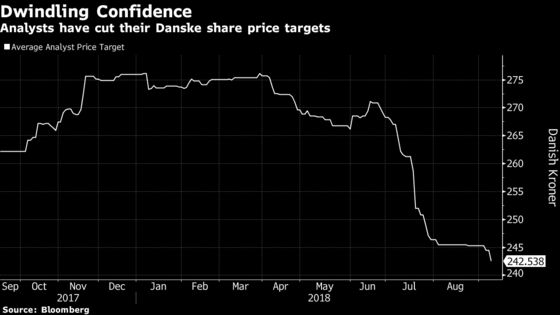 Andersen's comments followed a Wall Street Journal report on Friday that as much as $150 billion flowed through the bank's Estonian unit during the years in question. Danske has declined to comment on that figure, but cautioned against reading too much into it. Not all transactions are likely to be suspicious, according to analysts.
Chief Executive Officer Thomas Borgen, who was head of international banking at Danske while much of laundering was allegedly taking place, has publicly apologized for not acting sooner. But speculation is growing that he may need to step down. According to a Bloomberg survey of nine analysts conducted before the Wall Street Journal report, the likelihood of Borgen continuing until the end of this year is about 50 percent. By the end of 2019, the analysts put the probability at about 40 percent.
Some investors have already decided to take a step back from Danske Bank as the laundering case grows. Swedbank AB has removed its stake in the Danish bank from its focus portfolio, and instead increased its exposure to Nordea Bank AB and Investor AB, it said this week.
MP Pension, which has about $20 billion in assets under management, said over the summer that it has put the bank on its blacklist, halting all purchases in its shares.
ATP, which oversees more than $120 billion and is also a Danske investor, says it's "discontent with the lack of urgency the board has displayed in initiating the investigation."
"They should have acted more promptly, acknowledging the severity of this case right away," Stephan Ghisler-Solvang, head of communications at the fund, said in an email.
At the government level, Business Minister Rasmus Jarlov says the evidence available points to the likelihood that "criminal acts" were committed in connection with the Danske case. He also says the European Union needs to learn lessons from the scandal.