Bulls Left Shaking After Brutal Start to September: Taking Stock
(Bloomberg) -- It was a brutal start to September for the stock market and anyone long tech, but things are looking up to start the week. The e-minis are up ~10 handles, in what could be a lower-volume session given the Rosh Hashana holiday, while the banks are giving a lift to the European tape in reaction to comments from the Italian finance minister.
The 2,900 mark on the S&P 500 will be talked about going forward as near-term resistance, but the question is where will the market find some support. Baycrest Partners' Jonathan Krinsky is looking at the 2,800-2,830 zone (or 1%-2% lower from here), though he does ominously point out that the last time we started a September with four straight down days was 2008.
Trade remains the topic du jour and the biggest market catalyst, though there were hardly any new developments on that front over the weekend -- note that Lighthizer is meeting with the EU trade chief today in Brussels -- but this didn't stop Trump from taking the time to tweet about the issue, where he went after China ("The days of the U.S. being ripped-off by other nations is OVER!") and responded to Apple's grief about the tariff situation ("Make your products in the United States instead of China. Start building new plants now. Exciting!").
But another global matter seems to have percolated over the weekend, and that's the bubbling up of geopolitical tensions, from the WSJ reporting that Assad approved the use of chlorine gas against rebels in Idlib (which could ultimately trigger a military response from the U.S.), an attack on Libya's state oil company that was suppressed, to an NBC report that said North Korea is stepping up its efforts to conceal ongoing nuclear activity.
A whale of a Friday night news dump for Alibaba (shares down 1.5% pre-market) could make tech bulls with exposure to the Chinese market a bit squeamish.
The New York Times reported late Friday that Alibaba's chairman and co-founder Jack Ma would step down on Monday (i.e. today) to pursue philanthropic initiatives. In what may be a bit of a PR twist, the South China Morning Post countered, saying that the 54-year-old Ma, who is China's richest man with a net worth of more than $40 billion, will work on the transition over a significant period of time (i.e. not so fast on the "today" part of the retirement announcement). The company announced late last night that the succession would go into effect in a year from today.
Irrespective of the media noise, it remains clear that changes for Alibaba, one of the largest companies in China and the "A" in the FANG-like BAT complex (Baidu, Alibaba, and Tencent), and the public face of the country's technology industry, are happening. Some will question the timing of Ma's departure, with the ADRs for the $420 billion market cap e-commerce giant down 23% from their June peak.
Those same skeptics will question what this might mean for the other two BAT members after a similar period of underperformance, especially when compared to its mega-cap tech peers in the U.S. (see chart below): Baidu is down 24% in almost four months while Tencent has given up a third of its market value from its year-to-date closing high.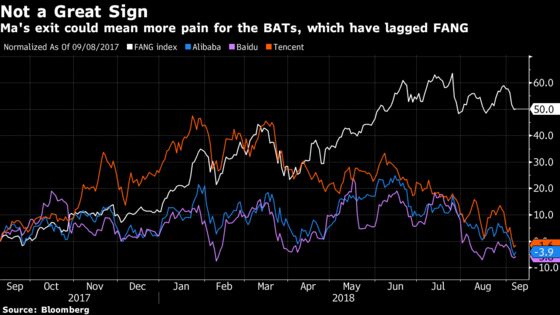 Here's some stuff you might have missed since Friday's close:
Elsewhere -- Steve Bannon told Reuters that Trump is facing a "coup" ("There is a cabal of Republic establishment figures who believe Donald Trump is not fit to be president of the United States. This is a crisis"); Politico Magazine unveiled its "50 Ideas Driving Politics (and the People Behind Them)" list that's topped by Trump, the Parkland teens, and Leonard Leo of the Federalist Society; Gary Shteyngart was interviewed by Barron's for his just-published book on hedge fund culture ("I didn't expect that so many of them are so unhappy. I kind of did, but I didn't realize that all it took was a couple of drams of Talisker to open them up."); Les Moonves is a goner (CBS shares are indicated slightly lower); the Air Force disputed reports that they are investigating Elon Musk's pot use (Tesla shares are up ~3% pre-market); Ethereum got creamed after its co-founder told us that days of explosive growth in the blockchain industry have likely come and gone; rapper Mac Miller, who had a hit song "Donald Trump" in 2011, died of an apparent drug overdose at the age of 26; Miss New York was crowned Miss America; the U.S. Open will be remembered for Serena's blowup at the ump; and my Saints probably destroyed your survivor pool hopes in what was the biggest upset of Week 1 (a 9.5-point favorite losing to FitzMagic? really?).
Here are a couple of recommendations that were recently posted on the investment network SumZero.
Idea #1 - Long YY Inc ADRs - Given the focus on the Chinese tech sector in the prior section, I wanted to highlight this Sept. 4 pick from Fosun Group's Shiniu Wei. The ADRs get a price target of $150, which implies upside of ~110% to Friday's close, in a pitch titled, "Buy a Leading Chinese Consumer Internet Company for Free." Wei cites multiple catalysts coming in the next 2-3 years for this SOTP investment idea, including the sale of its Huya stake (once Tencent takes majority control) and the consolidation or IPO of Bigo.
Idea #2 - Long LGI Homes - Moon Capital Management's Garrett Arms, in a Sept. 6 post, recommends buying this "best-in-class" Texas-based homebuilder whose shares are "easily worth" more than $80 today $100+ next year versus its last close of $50.57. Arms notes that the company's ROE has averaged >20% per year over the last six years: "Backing into the company's expected community count for next year, the company trades at 6X on a forward basis. This is entirely too cheap."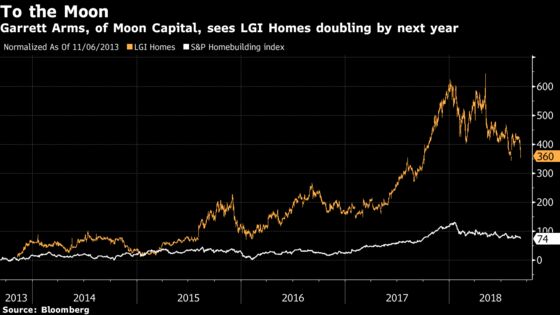 Idea #3 - Long SharpSpring - Brasada Capital Management's Jonathan Reichek, on Sept. 4, said to buy this $112m market cap company that competes with HubSpot and Salesforce in the marketing automation software industry. The stock has already surged almost 200% year-to-date, but Reichek sees another ~50% upside from here: "There is a land grab taking place in marketing automation software and SHSP has decided it's in the best interest of shareholders to grow as fast as possible. The CFO told me they don't need to raise capital anytime soon." Note that SharpSpring presents at the Lake Street Best Ideas Growth conference on Thursday.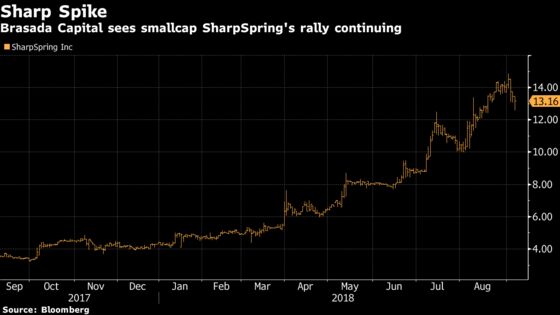 Notes From the Sell Side
There's a slew of notes on Tesla to be aware of: 1) Baird gives the stock "Fresh Pick" status as fundamentals and a ramp in production are seen driving shares higher ahead of 3Q deliveries and results; 2) Bernstein says the recent selloff in market perform-rated Tesla could be used as an entry point; 3) Needham reiterates an underperform on several concerns going into 2019, including the drag that services gross margins will have on overall margins; and 4) JL Warren says orders for Tesla's Model S and X have collapsed since the Chinese government announced a 25% tariff hike effective July 6, citing data obtained from China customs.
Citi boosts its Amazon price target to $2,250 (versus the Street average of $2,122) in its fifth in a series of deep dive reports, calling for Prime-related GMV to be on pace to exceed $500 billion over the next ten years as compared to $137 billion this year.
Morgan Stanley sees the significant selloff in Macau-exposed gaming stocks as a buying opportunity, barring an economic downturn in China, and highlights Las Vegas Sands as the continued favorite: "Macau gaming revenue (GGR) still appears to have the ability to beat our 16% growth forecast for the year, following a strong +17% August report (outperformed expectations) which in our eyes proved that June-July's 'weakness' was World Cup driven."
Goldman is more constructive on the life insurers due to more favorable fundamental trends, de-risking opportunities, and attractive valuations relative to historical levels. The firm adds Prudential to its conviction list, upgrades Lincoln National to a neutral and downgrades Torchmark to a sell.
Tick-by-Tick Guide to Today's Actionable Events
Today -- IPO lockup expiry for BWB
9:15am -- HOV earnings
11:00am -- HOV earnings call
11:30am -- T investor call to discuss pro forma financials reflecting TWX deal
12:00pm -- Fed's Bostic discusses economic outlook
12:00pm -- John Bolton speaks at Federalist Society
3:00pm -- Consumer Credit
4:01pm -- LMNR earnings
7:10pm -- New York Jets at Detroit Lions (-7)
10:20pm -- LA Rams (-4.5) at Oakland Raiders
Tonight -- SONO earnings (timing unclear, first report since IPO)