A Record Chip Stock Rally Is Fraying, Reviving Painful Memories
(Bloomberg) -- The rally in chip stocks has been going on so long that a generation of bulls has no idea what a bust feels like. They may be about to find out.
No single bad day is sowing the angst. It's the frequency of market routs. Episodes like this week's 2.9 percent plunge in the Philadelphia Semiconductor Index have happened once every 10 days in 2018. That's double the rate of the last five years, according to data compiled by Bloomberg.
The turbulence is testing faith in an industry that's been arguing the punishing boom-and-bust cycles of the past are over. Digital products are so ubiquitous that there's little risk of over-supply. Chips in smartphones, chips in cars, chips for cryptocurrency mining -- when one source of demand fades, another takes its place.
But for bulls sitting on three-year gains exceeding 1,000 percent in stocks like Nvidia Corp. and Advanced Micro Devices Inc., this year has been a test of nerves.
"I've been through these cycles and I know how devastatingly painful they can be," Daniel Morgan, senior portfolio manager at Synovus Trust Co., said. "I'm not ready to call a top right now. I think it's going to be a more splintered market with some areas stronger than others."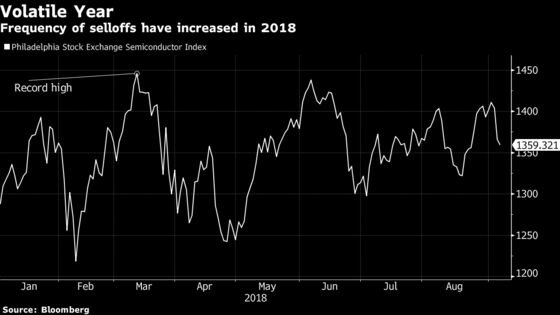 The soul searching kicked up again recently when semiconductor gear maker KLA-Tencor Corp. said some memory chipmakers were delaying plans to expand factory capacity. That will reduce shipments of its equipment in the second half of the year, the company warned.
The disclosure touched a nerve because the memory chip business, historically one of the industry's least forgiving sectors, has seen demand outstrip supply for two years. Delaying plans to expand output of memory chips could be a sign that the good times are about to be over.
The comments from KLA-Tencor, which gets much of its revenue from memory makers like Samsung Electronics Co. and Micron Technology Inc., sent semiconductor stocks tumbling. On Thursday, KLA-Tencor and Micron had their biggest single-day drop in two years.
The mixture of chip equipment and memory stress is a potent one for veteran investors in the $400 billion industry. It takes months to build, deliver and qualify a piece of machinery used in a semiconductor factory. This has historically made orders for this expensive gear a leading indicator of the whole electronics supply chain.
"If I'm starting to see a slowdown in demand for equipment, that tells me that something's out there that's making chipmakers hesitate to commit to fixed investment," Morgan said.
The memory chip business is notorious for wild swings between profit and loss. Memory chips, which are crucial components of personal computers and smartphones, are sold like commodities, and producers have historically had mixed luck matching supply with demand. Factories must run 24 hours a day, making periods when prices fall below the cost of production doubly painful.
Micron's recent run of growth and profit has clearly been seductive. Until May, the stock had been among the best performers in the semiconductor index, logging a more than five-fold gain since 2016. But it's now fallen 28 percent from a 17-year high on May 29.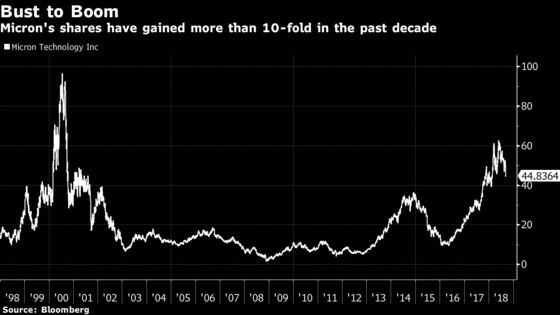 At the center of the debate about cycles are claims by the industry that it has untethered itself from fluctuations in specific markets for devices like personal computers and smartphones. Data centers, factory equipment, home appliances, vehicles and new items such as home smart speakers are adding to demand, the story goes. The desire to make everything think for itself needs processors and the explosion of data demands more memory and storage.
"Everybody ought to step back for a second and consider the broader picture," Anand Srinivasan, a Bloomberg Intelligence analyst, said. "I think semiconductors are the new industrials. If you have that perspective, then this is more of a bump along the way."
Still, he said that after such a long run of gains, this would be an ideal time when "logically one could de-risk."
Broadcom Inc., one of the biggest semiconductor companies with products that span a broad range of end markets, gave an earnings forecast late Thursday that helped dispel fears of an all-encompassing drop in demand. Chief Executive Officer Hock Tan said some markets are weaker and others are on the rise.
It's indisputable that this semiconductor cycle compares favorably to past ones. Using a 20 percent threshold as a yardstick for booms and busts in chip stocks, the sector has experienced the longest bull markets in its history over the past six years.