'Crazy Time' for Carolinas Hotels With Hurricane Florence Nearing
(Bloomberg) -- Even before warnings that Hurricane Florence would tear through South Carolina, hotel rooms were hard to come by, thanks to a college football game in the center of the state and a major equestrian competition just across the border in North Carolina.
Now residents planning to flee the coast ahead of the storm are grappling with tight vacancies and an ever-shifting availability of rooms.
The situation is fluid, with rooms opening up as the weather causes some guests to cancel reservations and the storm's path comes into focus. South Carolina Governor Henry McMaster lifted mandatory evacuation orders for three counties in the south of the state, which may increase the supply of rooms.
Even so, with the coinciding events, "people may have to go farther inland," said Katie Montgomery, spokeswoman for the South Carolina Restaurant and Lodging Association.
Rooms could still open up as the weather prevents fans from attending the World Equestrian Games, which runs Sept. 11 through Sept. 23 in Tryon, North Carolina, or the University of South Carolina versus Marshall University football game in Columbia, South Carolina, on Sept. 15.
Cancellations started coming into the King Charles Inn in downtown Charleston, South Carolina, as guests changed plans to stay out of the path of the hurricane. Away from the coast, the staff at the Sheraton Imperial Hotel in Durham, North Carolina, fielded calls from meeting planners wondering what happens if the gathering storm forces them to call off their conferences.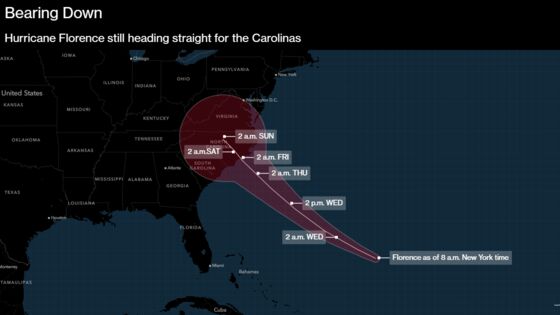 For the hospitality business, such abrupt swings are practically routine during hurricane season along the U.S. East Coast, with one set of travelers canceling reservations ahead of the storm and another -- including displaced residents, along with insurance and construction workers --- making new bookings immediately afterward.
To help guests track vacancies, the Economic Development Partnership of North Carolina maintains a spreadsheet of hotels with available rooms and a toll-free number to help residents get up-to-date information. Keeping information current is difficult, given that hotels are juggling new demand for rooms and cancellations.
Some hotels, including properties operated by Hilton Worldwide Holdings Inc. and Hyatt Hotels Corp., are waiving cancellation fees to accommodate customers dealing with the hurricane.
"You have existing business on your books that cancels because they can't get here," said Mike Martino, general manager of the Sheraton in Durham. "And then you have people from the coast attempting to book rooms. It's a crazy time period."
Florence could be especially devastating for the tourism business in the Carolinas because of its unusual westward path. Landfall is expected late Thursday or early Friday, and on its current path the eye of the storm will pass near Wilmington, North Carolina. Total damages could reach $27 billion, said Chuck Watson, a disaster modeler with Enki Research in Savannah, Georgia. That would make it the eighth-costliest storm in U.S. history.
On Monday night, President Donald Trump declared an emergency in North Carolina.
With everything from vacation rentals in the Outer Banks of North Carolina to the luxury hotels in historic Charleston affected, the storm would wreak havoc on an industry that employs about 10 percent of all workers across the two states. South Carolina's tourism business generates more than $21 billion in annual sales, according to the state's department of Parks, Recreation and Tourism. In North Carolina, the industry brings in about $24 billion, according to that state's Restaurant & Lodging Association.
At the King Charles Inn in Charleston, Maureen Sheridan, the hotel's general manager, skipped a planned day off to start implementing emergency plans, making sure her managers had accurate contact information for employees and beginning the process of moving computer hard drives and perishable goods away from the ground floor.
By Tuesday, the storm caused Sheridan to make a decision that, just one day earlier, she hadn't thought would be necessary: she'll be shutting the hotel down Wednesday morning.
"I've been here 11 years," Sheridan said, "and we've never closed because of a hurricane."