East German Businesses Battle Xenophobia in 'Fight for Survival'
(Bloomberg) -- Hans-Joachim Wunderlich is a worried man.
The head of the chamber of commerce in Chemnitz, a dreary industrial city in eastern Germany, fears that recent violent protests by anti-immigrant, right-wing extremists will spook investors and scare off the skilled foreign workers who are desperately needed in the former communist region.
"This is a matter of economic survival," Wunderlich said in an interview from his city-center office, just meters from where refugees allegedly stabbed a German man to death, sparking the unrest. "Our image is suffering and that means our product's image is suffering too."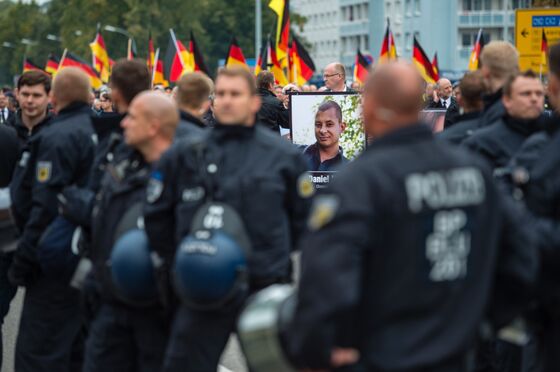 The slaying late last month of the 35-year-old man -- identified by authorities as Daniel H. -- and reports of the subsequent arrest of two asylum seekers as suspects set off sustained and brutal street violence in the city, named Karl-Marx-Stadt until the fall of the Berlin Wall. Far-right protesters clashed with counter-demonstrators as local police seemed overwhelmed and television news programs broadcast footage of neo-Nazis raising their right arms in the "Hitler salute."
Chancellor Angela Merkel -- who has promised to visit the city of around 250,000 next month -- and other senior policy makers were quick to condemn the latest manifestation of anti-immigrant sentiment, which has been building since the arrival of more than 1 million asylum seekers from 2015.
It's a view that is feeding the rise of extremist groups and the far-right AfD party, voted into the national parliament for the first time in last year's general election. Support for the AfD in the state of Saxony, where Chemnitz is located, is running at more than 25 percent, making it the second-biggest party after Merkel's Christian Democrats. Some national polls show similar trends.
Business leaders went into damage control following the events in Chemnitz. The Saxony region, which borders the Czech Republic to the south and Poland to east, has developed a reputation as a hotbed of xenophobia, while at the same time hosting major operations of German industrial giants including Siemens AG and Volkswagen AG, as well as foreign firms like Advanced Micro Devices Inc.
Siemens CEO Joe Kaeser warned that the unrest damages Germany's global image and called for tolerance. Managers at Europe's largest engineering company wrote to the firm's 4,300 employees in Saxony urging them to speak out against extremism. Around 200 Siemens workers this week took part in the annual Chemnitz corporate run wearing shirts with slogans like "Siemens in Saxony against discrimination."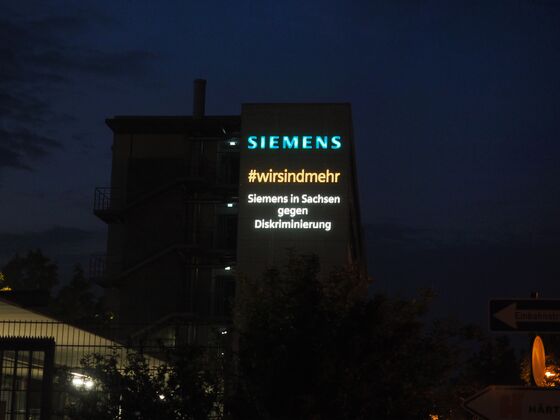 Porsche, which employs more than 4,000 workers at a factory in Leipzig making the Cayenne and Macan SUVs, condemned the violence, while pledging to maintain its presence in the region. Parent company Volkswagen has three other factories in Saxony, including one in Chemnitz and a nearby facility in Zwickau, which is being developed into an electric-car hub.
"What happened outside the factory gates goes against all of Volkswagen's basic values," the automaker's personnel chief Gunnar Kilian said at a gathering of employees in Chemnitz on Friday. "Admittedly, it is sometimes difficult to resist the lure of populism. That makes it all the more important to raise awareness."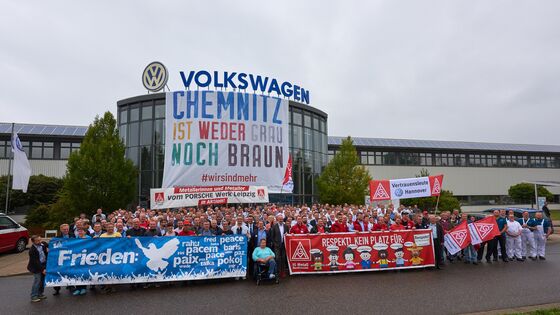 Business leaders are worried anti-immigrant sentiment will make it harder for Germany to address a desperate shortage of skilled labor. The Cologne Institute for Economic Research estimates the damage to the economy from lost productivity at 30 billion euros ($35 billion) a year, almost 1 percent of the country's gross domestic product. To fill the hole, Germany needs annual net immigration of more than 400,000 people, according to the IAB Institute for Employment Research.
In Chemnitz, mid-sized companies are running a campaign against racism together with Deutsche Bank AG, and the chamber of commerce is pushing another initiative dubbed "Industry for a cosmopolitan Saxony."
"We don't care where someone is from as long as they are willing to work and integrate themselves," Wunderlich said. "We will now work even harder to explain to the people here that only cosmopolitanism and diversity will save their jobs."