Tick. Tick. Tick. It's Your Move, President Trump: Taking Stock
(Bloomberg) -- Soooo... where is it?
Stocks have been under pressure all week, including another five-handle dip in the S&P futures this morning, as the world awaits Trump's tariff decision on $200 billion in Chinese imports now that the public-comment period has come and gone.
We've been on watch for the news ever since the clock struck midnight, but there hasn't been so much as a tweet on the issue from the President this morning, or a tweet at all besides one that just crossed at 6:56am that has zero to do with trade and more to do with Colin Kaepernick: "What was Nike thinking?"
Add to the fact that the sentiment on Nafta negotiations isn't getting any better (it looks like a deal won't be hitting this week after all), a trade fight with Japan is now potentially on the table (according to a Wall Street Journal opinion piece that dropped yesterday afternoon), and tensions between the U.S. and EU are taking a toll on Europe's economy: Germany's industrial production whiffed big this morning (actual -1.1% m/m vs an expected gain of 0.2%) while exports out of the country fell by their largest amount since February.
If we do get the tariff tape-bomb at some point this morning, I'd watch for volatility in the industrials, as the space has acted rather resilient (S5INDU +0.9% this week) in the face of selling in some of the other non-defensive sectors. Specifically, look for possible underperformance in the global bellwethers like Caterpillar, Boeing, and 3M all the way to the manufacturers of the nuts and bolts. Wolfe Research has an interesting take yesterday where they estimated ~58% on the impending $200 billion tariff list is industrials-related, specifically calling out industrial distributors like Fastenal and Grainger as likely to face the greatest levels of inflationary pressure and adding that Stanley Black & Decker is "also in the cross hairs."
But aside from the waiting game on tariffs, we'll have a horde of other macro catalysts today to be on watch for, including the all-important jobs data (our economics team says to beware of an August mirage in payroll weakness) and a smattering of Fed speak.
Tech has been blasted lately (S5INFT -2.3% in two days), thanks to persistent concerns over government regulation, jitters over the next wrinkle in the trade war with China, and defensive positioning in a weaker broader tape that has taken the wind out of momentum players and the bull market winners. But things might (emphasis on "might" as things aren't looking so bright to start off the day) be setting up for a bit of relief today thanks to a multitude of positive earnings reactions.
Let's start with Broadcom (up over 5% in early tarding) and its beat, which might be the panacea for what ails the semiconductors space after Thursday's thrashing -- the SOX sank 2.7% for its worst day in over two months on KLA-Tencor's qualitatively disappointing comments on the December quarter and a brutal note out of Morgan Stanley on memory markets worsening in recent weeks ("for DRAM, demand is weakening, inventory and pricing pressures are building, and vendors are struggling to move bits. In NAND, there is just too much supply").
The semis have been here before, as a one-year chart will show all sorts of sizable corrections that almost immediately reverse to keep the space afloat after an incredible rally from the beginning of 2016 to the end of 2017.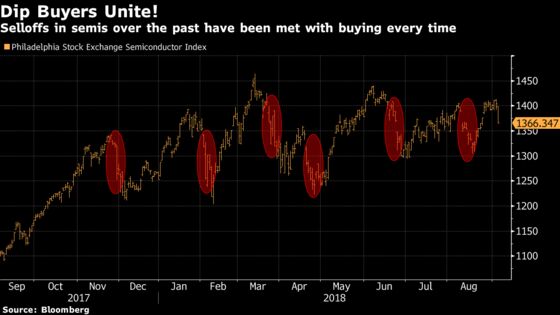 Comfort spots elsewhere in tech land today include the cybersecurity stocks, after well-received results from Palo Alto Networks (+6.6%) and Okta (+16%), and the opticals following upside from Finisar (+3.2%) and its print.
It's already been a very active sell-side conference season. Just look at what KLA-Tencor's qualitative comments on the December quarter did to the semiconductors or the double whammy of disappointing outlooks from Schlumberger and Halliburton smashing the oil services (OSX down more than 6% in the past three days). Next week brings even more presentations, with several big banks at Barclays, tons of TMT names at both Deutsche and Goldman, and some industrial giants and healthcare names at separate Morgan Stanley events.
We'll also get earnings from Adobe, the ~$127 billion market cap maker of Photoshop, and large-cap grocer Kroger, as well as a bunch of investor events that could turn into market movers. Some analysts are already getting ahead of them with calls like these:
Apple: The stock has an attractive setup ahead of next week's iPhone unveiling given muted consensus expectations on further ASP expansion and re-accelerating unit growth, according to Morgan Stanley; Goldman last night said AAPL is unlikely to go for lower price points given better-than-expected iPhone X demand this Summer ("we also take this opportunity to eat our hat somewhat on our cautious stance" and boosts price target to $240)
UPS: Morgan Stanley said last night it sees an 80% chance of a downside move for underweight-rated UPS after its Sept. 13 analyst day, as the strategic transformational initiatives are likely to fall short of rising expectations into the event
Dover: Deutsche Bank said to sell DOV in a "catalyst call" note last night ahead of the Sept. 11 meeting, noting that the company will likely set overly aggressive targets that it could subsequently miss
NXP Semi: SunTrust Robinson said this week that NXPI's analyst day will diminish investors' FUD (Fear Uncertainty and Doubt) as management engagement will be higher than perceived and we'll get more details that will support what appears to be a realistic 5%-7% revenue growth target
On the macro end, there'll be more opportunities for trade-related tape bombs given meetings between Lighthizer and the EU trade chief, Putin and Chinese President Xi Jinping, and the state of the union from Juncker. Rate decisions from the ECB, the BoE, and Turkey will be in focus, the latter very much so given all of the fears surrounding emerging markets contagion.
And if that's not enough, the Bob Woodward book that started all the chaos in the White House this week (well, prior to that anonymous op-ed in the New York Times) will be released on Tuesday.
Notes From the Sell Side
In addition to the Apple iPhone event previews from Goldman and Morgan Stanley mentioned above, Keybanc is out talking about the supply chain and how the latest checks imply a significant reduction in carrier store inventories (the lowest levels since launch), "which we view as extremely positive ahead of the new iPhone launch." Also cites disappointing Note 9 sell-through, all things that make the research shop more positive on suppliers like Broadcom, Qorvo, Skyworks, and Synaptics.
Susquehanna initiates coverage on Baidu with a positive rating and a price target well above the average on the Street ($325 versus consensus $298): "The GOOGL risk is obviously the elephant in the room (the stock is down ~13% since the news came out, underperforming the market by ~17 points), but we don't see much of a near-term threat."
Two negative notes on out Teva today, starting with Credit Suisse downgrading shares to a neutral as chances of a near-term approval of its migraine therapy fremanezumab. BTIG, meanwhile, reiterates its sell rating as it sees the migraine treatement market becoming increasingly crowded with multiple competing products expected to gain entry.
BofAML expects steel strength to stick through 2019, upgrading AK Steel to a buy and downgrading Reliance Steel to an underperform in the process. The firm now models spot benchmark hot rolled coil at $750 per short ton for 2019, up from a prior $700.
Jefferies gives Molson Coors its only equivalent sell rating out of almost 20 analysts covering the stock with a new initiation, citing a protracted sales decline based on a "challenged mainstream brand portfolio" in a sinking U.S. beer market.
Tick-by-Tick Guide to Today's Actionable Events
8:00am -- MDLZ investor day
8:30am -- Nonfarm Payrolls, Hourly Earnings, Unemployment Rate
8:30am -- Fed's Rosengren makes opening remarks at Boston Fed conference
8:30am -- GCO earnings call
9:00am -- Fed's Mester moderates panel at Boston Fed conference
9:00am -- TECH, QSII investor days
9:30am -- FFIV at Citi global tech conference
11:00am -- VZ at BofaML media, communications and entertainment conference
11:00am -- CLDR at Citi global tech conference
11:45am -- HPQ at Citi global tech conference
12:25pm -- Tiger Woods tees off at BMW Championship with Spieth and Fowler
12:30am -- SIRI at BofAML media, communications and entertainment conference
12:45pm -- Fed's Kaplan speaks at energy conference
1:15pm -- CIEN at Citi global tech conference