This Time Is Different? For Argentina and IMF, It Had Better Be
(Bloomberg) -- Argentina and the International Monetary Fund have history. Not the good kind. Their last loan deal was among the most disastrous of all time.
That's why the stakes are so high –- for both sides –- as Argentina resumes the role of IMF borrower after almost two decades. And already there are signs that the current $50 billion bailout is getting blown off course.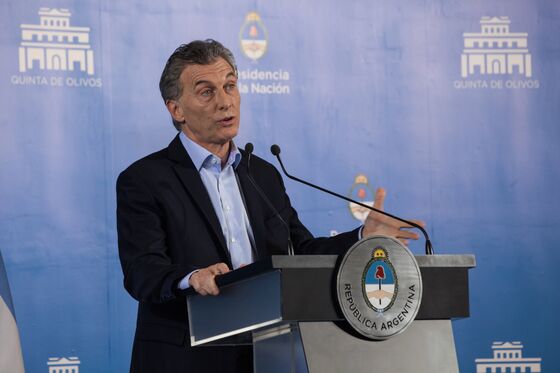 President Mauricio Macri is pushing to revise an agreement reached less than three months ago. He wants more cash up front to prop up the peso, whose dramatic slump last week helped trigger an emerging-market rout.
He'll probably get it. But that may just create a fresh set of problems for Macri, Argentina's first market-friendly leader since the country swung left after the crash of 2001. His approval ratings are already plunging -- and now he risks having to run for re-election, in little more than a year's time, against a backdrop of IMF-mandated austerity and an economy in recession.
That's a hard sell anywhere. It's especially toxic in Argentina, where "fundamentally, the IMF is a villain,'' according to Benjamin Gedan, head of the Argentina Project at the Wilson Center in Washington.
Macri's government has been talking to the IMF this week, after announcing $6 billion of fiscal savings for next year. The goal is a balanced budget (before interest payments on debt), from a projected deficit of 2.6 percent in 2018.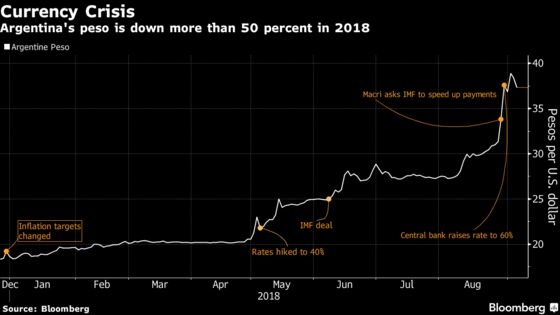 Even if that's enough to get public finances on track, "the real question is whether it's politically viable,'' said Gedan. "The opposition, and the Argentine people, do not buy into this.''
Working in Macri's favor is the rethink on austerity that's under way at the IMF.
The Fund got burned in 2001, too. The damage to its reputation wasn't commensurate with the economic depression and social unrest endured by Argentina. Still, it was enough to prompt an 85-page internal report into what went wrong.
"The provision of significant new financing only postponed the inevitable,'' was one finding. Translated out of IMF-speak, that means: We threw good money after bad.
Paul Blustein identifies another mistake. After indulging plenty of fiscal backsliding by Argentina early on, the IMF ended up putting its imprimatur on "a very constrictive budget policy,'' according to Blustein, the author of "And the Money Kept Rolling In (And Out),'' a study of the 2001 crisis.
"Its image suffered accordingly,'' he said. "I can only imagine how anxious people at the Fund are to make sure they avoid another Argentine rescue that goes bad.''
Argentina was just the start of the IMF's re-education. It subsequently poured money into Greece -- whose economy kept failing to rebound the way the Fund forecast it would.
A landmark paper in 2013, co-authored by then-chief economist Olivier Blanchard, identified the root of the error: Cutting government spending, as Greece was required to do under its program, did more damage to growth than the IMF's models predicted.
Later, the Fund pushed for Greek debt relief and sought to distance itself from austerity. "The IMF is a very different institution from when it last engaged with Argentina," spokesman Gerry Rice told reporters on Thursday.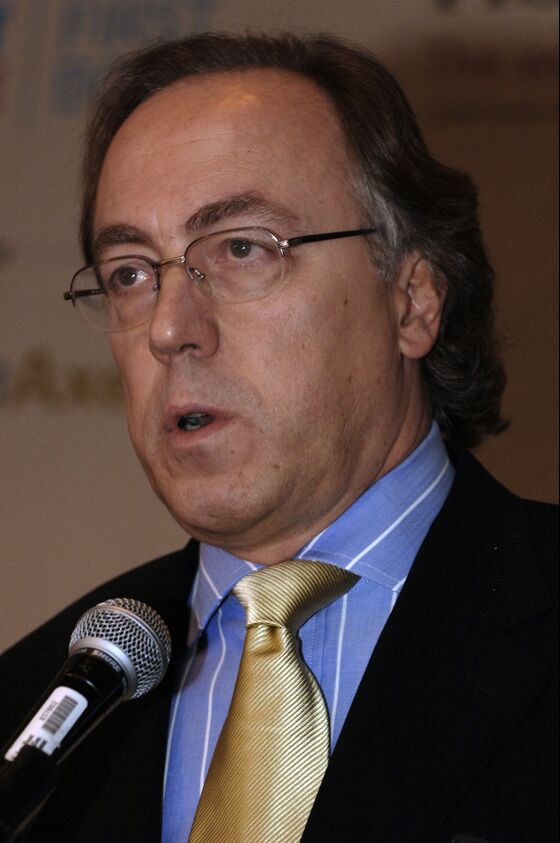 Guillermo Nielsen, who negotiated with the Fund as Argentina's finance secretary in the years after the 2001 crash, says it wasn't easy back then to persuade the IMF that spending cuts carried risks.
"We tried to show them the social limits of some of those measures," he said. "We had a very tough time."
But when talks with Macri's government got under way this year, the IMF itself was making a similar case, according to one person familiar with its approach in the discussions.
Fund bosses were worried that Macri could lose domestic support and get kicked out of power, the person said. They didn't want the program to be perceived as another round of IMF austerity for Argentina, and pushed for social protections to be built in.
The IMF's new stance may be reflected in the route Macri is taking toward a tighter budget. Subsidies for transport and energy will be trimmed, along with capital spending. But the main social benefits won't be cut. They're even due to increase slightly.
The biggest saving comes not from spending cuts but tax increases –- on exports. In Argentina that means large-scale farmers take most of the hit.
Julio Reumann, who has about 10,000 acres of crop fields and cattle pastures, says he's OK with getting squeezed. "We farmers can bear it,'' he said.
Reumann says he'll back Macri's government "until the very end." But he's critical of the president's policy of "gradualismo,'' saying Argentina needed shock therapy instead. And his support doesn't extend to Macri's pursuit of IMF loans.
"The best thing would be for them not to lend us anything,'' the farmer said. "Borrowed money only puts off a crisis for later.''