Jump in Yields Hits Real Estate, Homebuilder, Utilities Stocks
(Bloomberg) -- A better-than-expected August jobs report is lifting 10-year Treasury note yields to their highest since early August, which in turn is hurting stocks most sensitive to moves in interest rates, including utilities and real estate-related companies.
Ten-year yields climbed as much as 7.5 basis points to 2.948 percent on Friday morning, the highest since Aug. 9, in a rare move on the back of a single jobs report. The market-implied probability of a December rate hike has also risen following the jobs report, says Michael McDonough, Bloomberg chief economist, financial products.
Homebuilders are among sectors getting smacked, with the S&P Supercomposite Homebuilding Index down as much as 2.4 percent. Home sales typically slow after the spring selling season ends, while a rental glut is sending a chill through some of the hottest housing markets in the U.S., and higher commodity and labor costs are dampening builder profits. LGI Homes is leading decliners after reporting a drop in August closings, to 585 homes, versus 596 in the same month last year.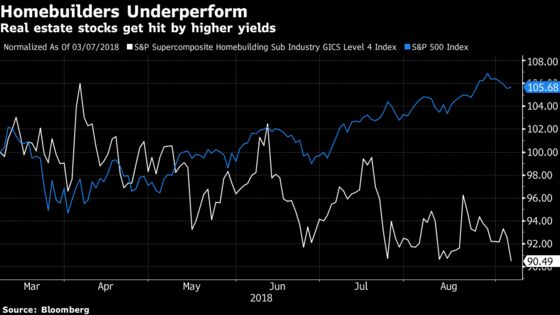 Real estate investment trusts are also declining, with the S&P 500 Real Estate Index down as much as 1.2 percent, the most in almost two months. All but two stocks in the index are lower, with Public Storage, Iron Mountain and Ventas leading the decline.
Power companies are sliding as well, with the S&P 500 Utilities Index down as much as 1.4 percent, the most since Aug. 1. PPL is falling the most, followed by Southern Co. and NRG Energy.