Insulin-Pump Maker Tandem Marks 'Rebirth' on Way to 1,800% Rally
(Bloomberg) -- Two years ago, Tandem Diabetes Care Inc.'s stock plummeted after a key health insurer favored a rival device, investors fretted about growing competition and analysts wrung their hands over the balance sheet. Shares lost 82 percent in 2016, and performed even worse the following year. Fast forward to 2018: the insulin-pump maker has the hottest stock in medical technology, with shares up more than 1,800 percent.
Tandem's market value has ballooned to more than $2.5 billion from $26 million just this year in what Chief Financial Officer Leigh Vosseller describes as an "almost a rebirth" following the "roller-coaster ride" that was the past two years. Bullish Wall Street analysts have played leap-frog in a race to slap ever-higher price targets on the stock: the current high stands at $60 a share, compared with Thursday's $44.22 closing price.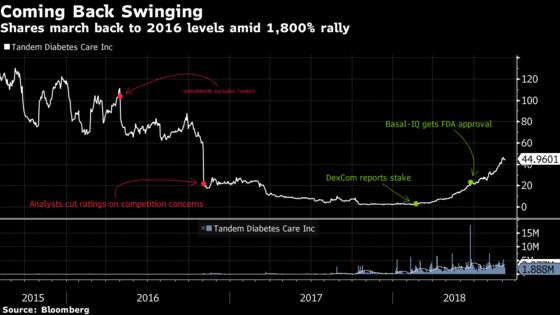 "There are so many ways for us to grow our business and the top line, from renewing our customer base, J&J exiting the market and creating an international opportunity, and the expansion of our own products," Vosseller said in an interview with Bloomberg News this week in New York. Tandem has successfully launched a new product every year since 2014 and remains on that track for the near-term, she said.
The company boasts of being the only manufacturer of touchscreen insulin pumps available in the U.S. and the only maker that provides patients with the ability to update the software, instead of waiting to get a new one that features the latest technology. Tandem's recent advances and improved balance sheet have won over investors as the stock skyrocketed.
The San Diego-based company credits the turnaround with its commitment to not slashing its sales force and research spending during the tough times. While UnitedHealth's decision to exclude the pump maker a couple years ago was "surprising," Vosseller said management didn't miss a beat and focused on factors it could control. As the shares continue to gain their footing, the pump maker remains locked in on getting new iterations of its technology to users in the U.S. and overseas where Johnson & Johnson left a void after shuttering its Animas Corp. business.
"Our focus now is where did Animas have a presence, where is reimbursement sufficient, where does DexCom have a presence," Vosseller said. "We are really focused on areas where the void is."
The company is well positioned for an international entry, expected later this year, according to Oppenheimer analyst Steven Lichtman. He noted an acceleration of its newly launched Basal-IQ pump and a quicker ramp outside the U.S. hold promise to boost Tandem's shares.
Another area where Tandem could build on its recent success is from a broader expansion to patients not yet using a pump. Recent industry trends show the market is there, Lichtman writes, citing Medtronic's diabetes revenue, performances from Tandem and Insulet Corp., and a recent survey.
"We think we could get to 50 percent pump penetration in the U.S. years down the road," Vosseller said. "As we further simplify the use of our products for patients, we think that could be a driving factor for market penetration at Tandem."