India Crackdown Said to Put 12 Power Assets at Bankruptcy Risk
(Bloomberg) -- Indian lenders haven't yet been able to restructure 12 stressed loan accounts in the power sector, people with knowledge of the discussions said, underscoring the risk that these may be referred to bankruptcy courts after $52 billion of debt came under scrutiny following a central bank directive.
It was thought that a resolution was possible in seven of these assets, the people said, asking not to be identified as the information is private. Under a central bank directive in February, lenders had until Aug. 27 to recast certain delinquent loans and a further 15 days to refer the cases under the nation's bankruptcy law. Discussions on revamping the debt are ongoing and lenders may still reach agreement on some assets, according to the people.
India's banks are suffering from one of the worst bad-loan ratios among major economies, and have been scrambling to restructure soured debt since the central bank laid out a new mechanism for dealing with such accounts earlier this year. The outcomes are being closely watched as they could become test cases for the bankruptcy code that India introduced in 2016 to help speed resolutions.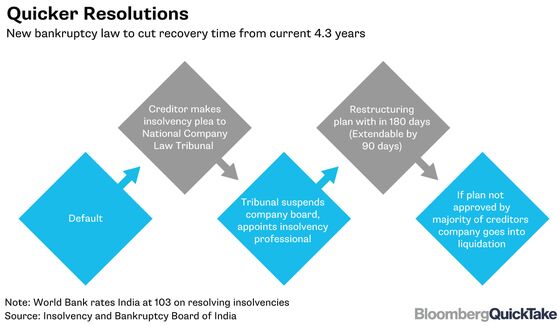 If deals are not reached, these cases will be added to the 14 that have already been taken to bankruptcy court, covering a combined 1.4 trillion rupees ($19.5 billion) of soured loans.
State Bank of India, the nation's largest lender, said last month that there was potential to recast 12 accounts, in seven of which talks were at an advanced stage. Banks will continue discussions on those assets where buyers have been identified, though lenders have so far failed to reach consensus, the people said.
Thirty-four stressed assets covering about 1.8 trillion rupees had been identified in the coal-fired power sector, according to estimates in a government report and from State Bank of India. Fourteen of these, worth 550 billion rupees, have already been referred to insolvency court; while difficulties in eight more -- with 350 billion rupees of dues -- have been resolved, SBI Managing Director Arijit Basu said last month. These are part of the more than $210 billion in soured loans across industries that India has been trying to clean up.
The 12 accounts, the people familiar referred to, include:
Jaiprakash Power Ventures Ltd.,'s Bara project
SKS Power Generation Binjkote
Avantha Power Jhabua
GMR Raikheda (Chhattisgarh)
KSK Mahanadi Akaltara
GMR Group declined to comment, while the companies responsible for the other assets did not respond to emails seeking comment