Defense Secretary Jim Mattis Makes Fourth Visit to Afghanistan
(Bloomberg) -- Defense Secretary Jim Mattis made an unannounced stop in Afghanistan on Friday as the U.S. seeks to bolster President Ashraf Ghani's efforts to reach a cease-fire and eventual peace agreement with the Taliban.
Mattis arrived at Resolute Support headquarters in Kabul after a trip to Delhi, where he and Secretary of State Michael Pompeo met with their Indian counterparts.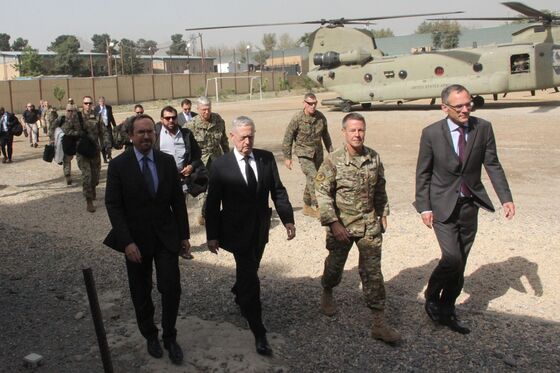 Mattis's visit comes days after a new U.S. commander, Army General Austin Miller, took over as head of U.S. and allied forces in America's longest war. U.S. troops first attacked Afghanistan in late 2001 following the Sept. 11 terrorist attacks, when the country was ruled by the Taliban. Miller acknowledged the toll the 17-year conflict has taken at his swearing-in ceremony.
"The world recognizes that Afghanistan cannot be a safe haven for terrorism," Miller said Sept. 2. "The world recognizes that we cannot fail. I know this has been a long fight and it has been generational. For us, for the Afghan people."
Mattis last visited Afghanistan in March, when he met with Ghani and Chief Executive Officer Abdullah Abdullah in Kabul.
While President Donald Trump has long chafed at the continuing U.S. presence in Afghanistan, he authorized Mattis to send additional troops to the country last year. About 14,000 U.S. troops are now in Afghanistan, down from a peak of about 100,000 during the Obama administration.
But those forces haven't been able to bring stability to Afghanistan, despite appropriating about $126 billion for Afghanistan relief and reconstruction, including $78 billion for security. According to a July 31 report by the U.S. Special Inspector General for Afghanistan Reconstruction, Afghan forces are continuing to lose ground as targeted terrorist attacks rise and poppy cultivation reaches record levels.
Among the more recent attacks, a suicide bomber on Wednesday struck at a wrestling club in the western region of Afghan capital and a second suicide car bomb near the club killed at least 20 people and injured 70 others, including some Afghan journalists. About 50 people people were killed last month in a suicide attack inside an Afghan classroom in Kabul.
As of Sept. 4, the Pentagon says 2,351 U.S. troops have died in Afghanistan since hostilities began, with about 20,000 wounded.