Chipmakers See a Reprieve as Broadcom Serves Up Optimism
(Bloomberg) -- Semiconductor stocks are getting some relief after Thursday's drubbing, thanks to Broadcom Inc.
The roller-coaster summer for the Philadelphia Semiconductor Index continued Friday after chipmaker Broadcom's quarterly sales forecast topped analyst estimates, bucking a global sector selloff. The good news is helping to soothe nerves a day after KLA-Tencor Corp. stoked investor concerns for market demand and Baird analysts pumped the brakes on Micron Technology Inc.'s ascension.
The index gained 1 percent Friday, easing its 3.2 percent decline from the prior two days as investors flocked to New York to glean insight from industry executives at the Citi Global Technology Conference. Instead of serving up bullish sentiment, commentary from KLA-Tencor's chief financial officer reignited fears and pressured sector heavyweights. However, Broadcom's quarterly growth and sales upside won applause from Wall Street analysts, who rushed to boost their 12-month price targets.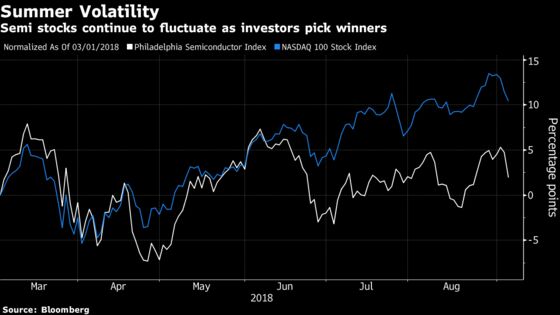 The third-quarter beat and guidance raise addressed Bank of America Merrill Lynch's "concerns around growth deceleration and competitive risks," prompting the bank to upgrade shares to buy. While the same Baird analyst who pulled Micron from the firm's top semiconductor large-cap ideas on Thursday crowned Broadcom the best pick of the group noting its "very attractive valuation." Shares climbed as much as 7 percent at 10 a.m. in New York, its biggest gain in nearly a year.
"As overall semiconductors adjust to a mid-single-digit year-over-year growth into next
year, Broadcom emerges as a particularly attractive, value stock compared to more
cyclical semi names," the Baird analysts wrote. They praised the company's continued leadership in key end-markets with expectations for a next-generation WiFi win and radio frequency market share resurgence.
Peer Marvell Technology Group Ltd. is also lifting the sector. The integrated circuits manufacturer rose more than 7 percent in early trading, its largest gain more than two months, after second-quarter results and forecasts beat expectations. Twenty-three of the index's 30 members gained Friday.
While the upbeat sales forecast may serve to backstop semiconductor stocks, the benchmark is still poised for a 1.7 percent decline for the week. And the U.S. government still holds a wild card that could send the space spiraling further and prompt investors to tread lightly. President Donald Trump may impose his plan to slap tariffs on an additional $200 billion in Chinese imports as soon as Friday.