Brexit Bulletin: Rolling the Dice
(Bloomberg) -- Today in Brexit: Negotiators don't see a deal coming together quite yet. There's still more politics to come first.
It's tempting to think that with positive noises emanating from various parts of the European Union on the two big Brexit stumbling blocks, the Irish border plan and the U.K.'s post-Brexit ties to the EU, a deal might be imminent. Not so fast.
Not so soon, anyway. Talk to diplomats slowly returning to Brussels from summers back home and there's one date uppermost in their minds. Curiously, it's not the next round of negotiations, nor even the EU summit in Salzburg in two weeks' time. It's actually the Conservative Party Conference in Birmingham, the U.K.'s second city, beginning on Sept. 30. That's what is keeping EU types up at night.
Why? Because they calculate that Prime Minister Theresa May won't be able to make any concessions to Brussels until she's safely navigated the annual knees-up with her party's grassroots. It's why, despite the optimistic voices and the much-heralded "continuous talks" between U.K. and EU negotiators, there's little sign of headway on the most contentious issues, and why there's been practically no progress for months on the Irish border backstop – the insurance to ensure there will never be a hard frontier whatever the Brexit outcome. The U.K. has barely engaged on the topic, European diplomats say.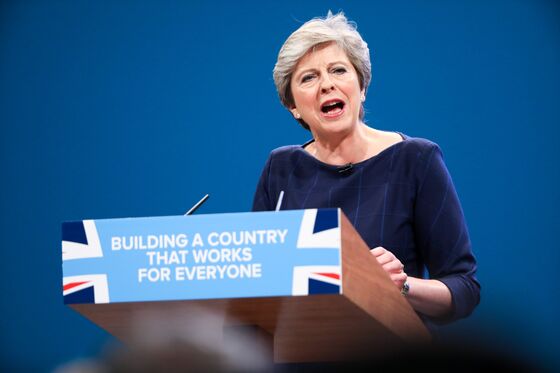 The buzz in Brussels is that Birmingham will unlock the door for things to slot into place in October. The 27 remaining EU leaders might even help May by committing themselves at Salzburg to her plan for future security and foreign affairs ties. That would mean she can turn up at conference with something to boast about, diplomats say. According to Friday's Times, the pro-Brexit opponents in her party have in effect ruled out a leadership challenge in Birmingham, suspecting that they will get the Canada-style free-trade deal promise they crave when the EU finally shoots down May's own Chequers proposal in late October or November.
But if that doesn't happen then, they may trigger a leadership contest at the turn of the year, just three months before Britain leaves the EU on March 29. That's the EU's worst nightmare.
All sides are gambling. It pretty much writes off the whole of September despite the already-pushed-back deadline for a Brexit deal looming in mid-November. It's a tricky, fragile choreography, but it's all they've got.
Brexit Secretary Dominic Raab has spoken to Michel Barnier, the EU's chief Brexit negotiator, for longer in two months than his predecessor, David Davis, managed in half a year. But, the Financial Times asks, does he really have any influence?
Spitzenwhat? The starting gun has been fired in the race to become the next president of the European Commission. It's the job Barnier might (or might not) want next. We have a handy guide to how the process works and whether Barnier is really in with a shout.
Warning Shot | The EU should avoid humbling Britain, according to the former British ambassador to the bloc. In a speech in Dublin on Thursday, Ivan Rogers warned that Europe could face its biggest political crisis since World War II. "All sides need a stable, amicable post-Brexit settlement, not an endless toxic running battle, and any Brexit deal which was widely perceived as a humiliation in the U.K. will not be a stable, lasting one," he said.
Clearing Confusion | The U.S.'s top derivatives regulator is ratcheting up pressure on the EU to scrap its plan to tighten oversight of foreign clearing houses. The plan is a response to Brexit, because once the U.K. leaves the EU will relinquish oversight of the City of London. Speaking behind closed doors in Vienna, U.S. Commodity Futures Trading Commission Chairman J. Christopher Giancarlo said the EU proposal would lead to "overlapping and confounding cross-border regulation, with its high regulatory cost and constraints on economic growth."
French Protection | France "will fight" to make sure that its ports "have their rightful place in the new exchange routes between the U.K., Ireland and Europe" after Brexit, French Transport Minister Elisabeth Borne told AFP. Borne will discuss the issue with the European Commission to make sure French ports are supported by "the financial mechanisms that exist in Europe."
Equal Say | Sophie Walker, leader of the U.K. Women's Equality Party, urged her 45,000 members to back the campaign for a second referendum on Brexit, and said women's needs had been ignored by a "small group of white men" on both sides of the debate. Walker said she wants to "re-shape the people's vote into something meaningful for women." 
Counter-Claim | Michel Barnier doesn't think that the U.K.'s plan for post-Brexit ties is completely unworkable, a European Commission spokesman said. The spokesman was responding to claims made by a British lawmaker that Barnier said Theresa May's so-called Chequers Plan was "dead" during a meeting in Brussels. "This was a meeting that was not open to the press, which is a perfect recipe for everyone to come out of there and say what one or the other understood Michel as saying," spokesman Margaritis Schinas told reporters.
Want to keep up with Brexit?