U.S. Service Industries Grew in August by More Than Forecast
(Bloomberg) -- Expansion in U.S. service industries rebounded in August to a faster-than-expected pace, adding to signs economic growth will remain solid in the third quarter, an Institute for Supply Management survey showed Thursday.
Highlights of ISM Non-Manufacturing (August)
Non-manufacturing index rose to 58.5 (est. 56.8), from an 11- month low of 55.7; readings above 50 indicate expansion
Measure of business activity advanced to 60.7 from 56.5
Gauge of new orders rose to 60.4 from 57
Key Takeaways
The reading on the main index matched the most optimistic analyst forecasts, signaling that demand for services is buoying U.S. companies and the economy. The gain across all four index components -- business activity, new orders, employment and supplier deliveries -- follows another ISM report this week showing the group's factory gauge advanced to a 14-year high.
Thursday's numbers show little impact from ongoing trade conflicts, with an index of export orders increasing and imports little changed. While companies have flagged rising prices for some materials in other releases and on conference calls, a gauge of prices paid eased in August.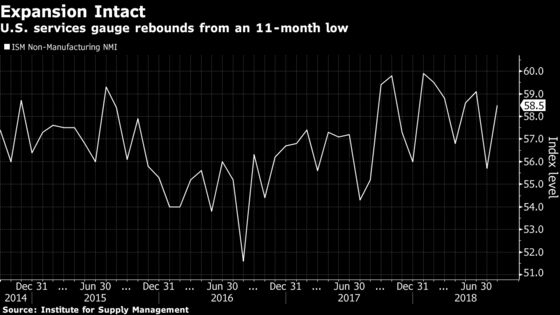 Still, companies face complications. A respondent in construction said "tariff-related cost increases are beginning to accelerate, whether tariffs have been put into effect or not," according to the ISM report. A respondent in the information industry said newspaper margins are being hurt by a double whammy of tariffs on imported aluminum used for production plates, which then face further tariffs when sent for recycling in China.
Service industries continue to face constraints meeting strong demand, with a measure of order backlogs rising in August.
In the labor market, a retail respondent reported greater difficulty attracting and retaining talent at all levels. "We have begun taking steps to change compensation packages to combat this issue," according to the comment cited in the ISM statement.
The employment gauge climbed to a seven-month high of 56.7, another example of upbeat labor-market data before the government's jobs report Friday. Economists expect non-farm payrolls rose 195,000 in August and the unemployment rate ticked down to 3.8 percent to match the lowest in nearly five decades.
"Respondents remain positive about business conditions and the economy," Anthony Nieves, chairman of the ISM's non-manufacturing survey committee, said in a statement. "There was a strong rebound for the non-manufacturing sector in August after growth 'cooled off' in July. Logistics, tariffs and employment resources continue to have an impact on many of the respective industries."