Tencent-Backed Meituan's Willing to Curb Spending as IPO Looms
(Bloomberg) -- Meituan Dianping pledged to keep investing in unprofitable businesses such as food delivery but back-tracked on its car-hailing ambitions, signaling a willingness to throttle back on a spending frenzy that's swelled losses.
The internet services giant is intent on cementing its presence at home and will eschew an overseas expansion for now, Chief Executive Officer Wang Xing told reporters in Hong Kong on Thursday. In the local food arena, Meituan plans to invest more on signing up restaurants and helping them manage their business: everything from crafting online menus to book-keeping. But executives said it's choking off further spending on ride-sharing -- averting a potentially costly battle with market leader Didi Chuxing.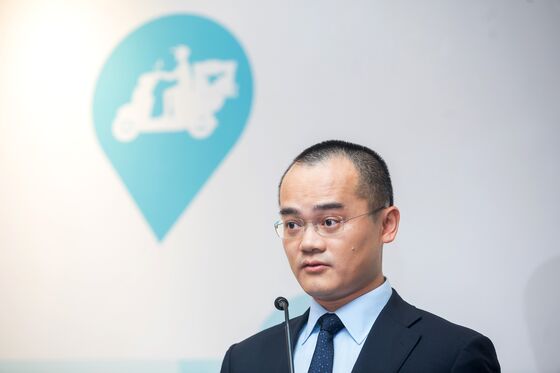 Meituan, which aims to raise as much as $4.4 billion in its Hong Kong initial public offering, is burning cash as it targets rapid growth in new sectors of China's online market. The listing will help bankroll an expansion into businesses such as finance as it pursues an ambition to become a super-app in the vein of WeChat, owned by backer Tencent Holdings Ltd. That sets it up for a clash with Alibaba Group Holding Ltd., which is spending billions to try and seize control of China's $1.3 trillion food delivery and online services industry.
Meituan "has yet to become profitable because we are confident in the market's growth and are still making a lot of investments," Chief Financial Officer Chen Shaohui said. "We are very confident in our food delivery business turning profitable," he added, without specifying a timeframe.
Meituan lost $2.9 billion in 2017 on changes in the fair value of its preferred stock. Yet even without the accounting adjustment, its operating loss last year was 3.8 billion yuan ($557 million).
The company released more details on its financial performance on Tuesday. In the four months ended April, revenue surged 95 percent to 15.8 billion yuan while its loss almost tripled to 22.8 billion yuan, which includes the impact of acquiring unprofitable bike sharing startup Mobike.
"We cannot assure you that Mobike or our business as a whole will achieve profitability in the future," it said in a filing.
In ride-hailing, Meituan had intended to take on Didi Chuxing, the startup that defeated Uber Technologies Inc. in China. But now the company said it's halting further expansion into the ride-sharing sector, which demands a heavy cash burn.
The restaurant review and delivery giant is offering 480.27 million new Class B shares and five cornerstone investors, including Tencent, have agreed to buy a combined $1.5 billion of stock in the offering, the terms show.
Tencent has committed to buy $400 million of stock, while Oppenheimer agreed to invest $500 million, the terms show. Darsana Capital Partners will purchase $200 million of shares, while fellow hedge fund Landsdowne Partners agreed to invest $300 million. The China Structural Reform Fund committed to purchase $100 million, the terms show.
Meituan expects to take investor orders through Sept. 12 and price the offering that day during U.S. Eastern hours. It aims to start trading Sept. 20, the terms show. Goldman Sachs Group Inc., Morgan Stanley and Bank of America Corp. are joint sponsors of the offering, while China Renaissance Holdings Ltd. is sole financial adviser.
Wang founded Meituan.com in 2010 as a group-buying site similar to Groupon Inc. before a 2015 merger with Dianping, which provided reviews of restaurants and other local businesses. Wang will remain controlling shareholder after the company lists, according to Meituan's preliminary prospectus.
Meituan would be only the second company to list with weighted-voting rights in Hong Kong, after smartphone maker Xiaomi Corp. priced a $5.4 billion share sale in June. The city's market regulators tweaked rules this year to try and attract more of China's tech darlings, which like Alibaba have previously favored the U.S.
It'll try to get investors to focus on its rapid top-line expansion, in the tradition of Amazon.com Inc. and other fast-growth firms that bled money for years. And much of that will come from its own backyard. It remains to be seen if the market will overlook its significant spending on marketing.
"We don't plan to expand drastically overseas," said Wang, whose Meituan has invested in Indonesia's Go-Jek and India's Swiggy. "We want to focus on China first."