Pebblebrook Wins in $5.2 Billion War With Blackstone for LaSalle
(Bloomberg) -- Jon Bortz founded LaSalle Hotel Properties in 1998 and led the lodging company until 2009, when he left to start a new firm, Pebblebrook Hotel Trust. Now, Bortz will merge his old company with his new one.
Pebblebrook agreed Thursday to acquire LaSalle for about $5.2 billion, including debt, topping a competing offer from Blackstone Group LP that LaSalle had accepted in May. The combined company will own 66 high-end hotels and resorts in or near 16 U.S. urban markets, making it the largest owner of independent lodging properties at a time when a strong economy is encouraging businesses and consumers to increase spending on travel.
"We are very pleased to have reached an agreement to bring Pebblebrook and LaSalle together in a strategic combination that represents a terrific value-maximizing opportunity" for shareholders of both companies, Bortz, Pebblebrook's chief executive officer, said in a statement.
Pebblebrook spent almost half a year in pursuit of LaSalle, whose properties include the Westin Copley Place in Boston and the Park Central New York, announcing its first all-stock bid in March. In a series of letters, investor presentations and conference calls, Pebblebrook argued that the similarities between the two companies' portfolios -– as well as Pebblebrook's superior operating results -– made the combination a good fit.
"What they've been telling people all along is that this is a once-in-a-cycle opportunity to combine these two companies, and they are taking a long-term view here," said Michael Bellisario, an analyst at Robert W. Baird & Co. "There's an opportunity they see to fix the operation and capital plan at a lot of hotels, and that is value-added to them."
Pebblebrook will exchange 0.92 common share for each LaSalle share, and LaSalle stockholders will have the option of receiving $37.80 a share in cash for as much as 30 percent of the deal, according to Thursday's statement.
LaSalle had resisted the advances from its former chief executive, courting other offers and eventually agreeing to a $33.50-a-share all-cash takeover offer from Blackstone, valued at $4.8 billion with debt.
LaSalle shareholders had been scheduled to vote Thursday on the Blackstone proposal, but that meeting was canceled after LaSalle's board said it was rejecting Blackstone's offer and determined that Pebblebrook's bid was superior. LaSalle paid Blackstone a $112 million breakup fee on Thursday, according to a regulatory filing.
Investor support for the cash takeover was already eroding. Two prominent advisory firms, Institutional Shareholder Services Inc. and Glass, Lewis & Co., issued reports last month recommending that investors oppose Blackstone's offer and arguing that Pebblebrook's bid was superior. And one of LaSalle's largest shareholders, HG Vora Capital Management LLC, said it planned to vote against the Blackstone deal.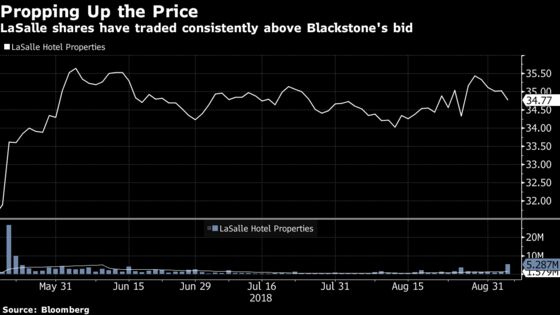 The two hotel owners agreed to combine at a time when strong industry performance and liquid debt markets are driving buyer demand. More than $10 billion worth of hotel properties changed hands in the first half of 2018, an 11 percent increase from the same period last year, according to lodging-data provider STR.
"It's a great time to be a seller of hotel properties," Bellisario said. "The buyer pool is so deep and the debt market is so frothy and people are so optimistic about where hotel fundamentals are going."
The deal is subject to a shareholder vote, likely in the next 90 days. LaSalle will sell three of its hotels, with about 1,600 guest rooms, as part of the merger agreement.
Bortz -- who will remain Pebblebrook's chairman, president and CEO -- will have to prove that the company can create value from the acquisition, according to Patrick Scholes, an analyst at SunTrust Robinson Humphrey.
Pebblebrook is "known as one of the best-in-breed hotel owners," Scholes wrote in a note to clients Thursday. "And barring an economic shock or downturn, we believe they can get it done."