Japan's Kansai Airport to Reopen Partially After Typhoon Damage
(Bloomberg) -- Japan's Kansai International Airport, which was shut down after Typhoon Jebi flooded the facility, will reopen partially tomorrow, helping airlines to gradually resume services.
Japan's third-largest airport by traffic numbers will open one terminal and ANA Holdings Inc.'s low-fare unit Peach will be the first to start flights, Yoshiyuki Yamatani, president of the airport operator, said in Osaka Thursday. The Kansai airport is the gateway to the Osaka region and only lags behind the Haneda and Narita facilities that serve Tokyo.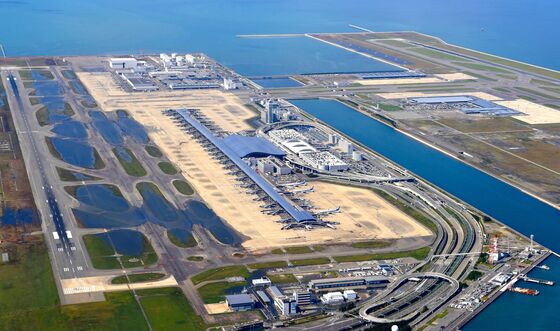 The airport is a key transport and cargo hub that lies on an artificial island in Osaka Bay. It was almost directly in the typhoon's path and was forced to close after its runways were flooded and a tanker smashed into the road and rail bridge linking the airport to the mainland.
Extreme Weather Taking Toll on Japan's Tourist Boom: Chart
Singapore Airlines Ltd., Cathay Pacific Airways Ltd. and Japanese carriers were among those who canceled hundreds of flights because of the airport shutdown.
Plan is to reopen Runway B and Terminal No. 2 for domestic flights
No clarity yet on reopening of runway A and Terminal No. 1 as flood damage is high
No date set for full resumption of the damaged bridge. Inbound and outbound cars will use the undamaged side of the bridge
Restoration of runway A and the damaged bridge are the main factors delaying the resumption of international flights