Italy's Populists Begin Their Big Betrayal
(Bloomberg Opinion) -- Italian politicians aren't known for keeping promises. Throughout nearly 10 years as prime minister, Silvio Berlusconi repeatedly said he would slash taxes – only to fail to make good on his pledges while leading the country into a debt crisis. But the new populist coalition of the League and Five Star Movement is taking things to a new low.
On Wednesday, deputy prime ministers Luigi Di Maio and Matteo Salvini vowed to pass a prudent budget, one that wouldn't cause friction with the rest of the EU and havoc in financial markets. "We want to respect the commitments made with the Italians remaining within the constraints imposed by others," the League leader Salvini said. "We will pass a budget that will make Italians smile again, but that will keep the public accounts in order," insisted Five Star's Di Maio.
Investors liked what they heard. Over the past three days, the yield on Italy's 10-year bond has tumbled from more than 3.2 percent to about 2.9 percent. Meanwhile, the Milan stock market has rebounded just as other European equities fell. After a torrid summer that looked like the prelude to an even hotter autumn, this is no small feat.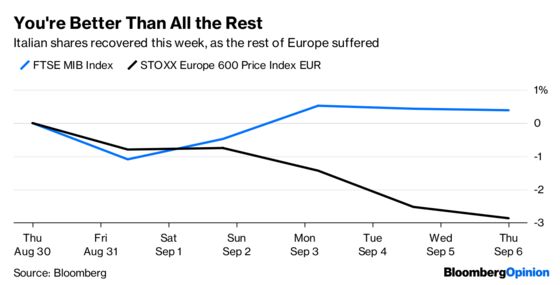 The trouble is that Di Maio and Salvini's comments run against pretty much anything they've promised voters. In May, they signed a coalition agreement that earmarked nearly 125 billion euros ($145bn) in tax cuts and new spending commitments, according to an independent estimate. True, they've always said this would be done over time. But it's hard to see how this government will make good on anything but symbolic promises if it really means to stick to restraint.
Of course, the devil's in the detail. Neither leader has clarified what budget deficit the government will target for 2019. Italy is expected to run a deficit of 0.8 percent next year, but this seems out of the question. Giovanni Tria, the technocratic finance minister, is said to favor staying below 2 percent, while some in Five Star and the League probably have something closer to 3 percent in mind. Expect months of wrangling – within government, and with the European Commission – to decide where exactly the line will be drawn.
Yet the political U-turn is clear. The League promised a "flat tax" throughout its electoral campaign to boost the economy. The coalition deal with Five Star had already watered this down into a tax system with two brackets. Now the budget is expected to deliver only minor tax cuts, most likely for the self-employed.
As for Five Star, it had championed a "citizens' income" to help the unemployed and poorly paid. This will now probably be an extension of the existing income-support scheme passed by Paolo Gentiloni's former center-left government. On pensions too, the two parties will have to cut back on earlier proposals to slash the retirement age.
Having ended their flirtation with a euro exit, Salvini and Di Maio appear to be doing the same with their gargantuan fiscal stimulus. Confrontation with the financial markets has been dialed back. Only days ago, Di Maio said the interests of Italians came ahead of those of the rating agencies. Yet on Wednesday he said: "It is not a given that the interests of rating agencies and Italians are opposed."
There may be more U-turns. Five Star had debated shutting down ILVA, a large steelmaker in Southern Italy which has been linked to a local increase in cancer and deaths. On Wednesday, Di Maio hinted strongly that he will stick with the previous government's plan to sell it to steel giant ArcelorMittal. The two parties are also dropping their opposition to compulsory vaccinations at school. 
How will voters react to such a betrayal? For now, probably with a shrug. Five Star and the League haven't been too effective at governing, but they've been very good at shifting the blame onto others such as the EU, "speculators" and their predecessors. The opposition is divided, unpopular and lacks credible leaders. The government's tough stance on immigration has strengthened its support, with the two parties commanding about 60 percent of the vote according to recent polls.
The coalition remains vulnerable, however. For a start, the League and Five Star are competing with each other for votes. Their conflicting priorities make it harder to put together a budget, especially when resources are scarce.  And voters are fickle. It didn't take long for Italians to turn their back on Matteo Renzi, who was tipped to dominate the country's politics for a decade. That could well be the fate of Di Maio and Salvini too.
This column does not necessarily reflect the opinion of the editorial board or Bloomberg LP and its owners.
Ferdinando Giugliano writes columns and editorials on European economics for Bloomberg Opinion. He is also an economics columnist for La Repubblica and was a member of the editorial board of the Financial Times.