Citigroup to Revamp Investment Banking With New Leaders
(Bloomberg) -- Citigroup Inc. revamped its investment-banking operation Thursday, two days after announcing that Chief Financial Officer John Gerspach and two other key leaders would depart.
Ray McGuire, global head of corporate and investment banking, will take on a new role as a vice chairman of the New York-based bank, Citigroup said Thursday in an internal memo. Tyler Dickson and Manolo Falco will run a restructured version of the investment-banking operation that combines the corporate and investment bank with the capital-markets origination business, according to the memo.
Merging those two business gives banking clients "a more comprehensive coverage model, aligning our capital raising and advisory products more seamlessly," Citigroup President Jamie Forese, who's also head of the institutional-clients group, said in the memo.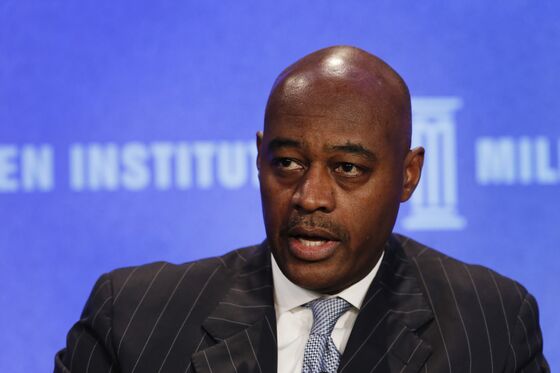 Citigroup has been revamping its power structure in recent weeks. Chief Executive Officer Michael Corbat promoted Mark Mason to succeed Gerspach when he retires as CFO in March, the bank said Tuesday. Mason previously worked directly under the CEO to free the firm of troubled businesses and assets in the aftermath of the financial crisis.
McGuire, 61, oversaw the unit that advises on mergers and acquisitions, while Dickson ran the division that arranges stock and bond sales for clients. Revenue from the combined businesses declined 9 percent to about $2.6 billion for the first half of the year. Falco was head of the corporate and investment bank in Europe, the Middle East and Africa.
"Other big banks already structure their investment bank this way, so Citi is just moving in the same direction," Brian Kleinhanzl, an analyst at Keefe, Bruyette & Woods, said in an interview.
Two other executives, North America head Bill Mills and Jim Cowles, who runs the bank's EMEA business, plan to leave at year-end, according to an internal memo earlier this week.
McGuire's move strengthens leadership at the top of Citigroup. The bank's chairman, Michael O'Neill, 71, is nearing the retirement age for Citigroup directors and has previously said he's "agnostic" about keeping the chairman and CEO roles separate. Citigroup said in the memo that it will announce additional appointments to its investment-banking leadership in coming months.
Last year, Corbat said the bank reached an "inflection point" where it was pivoting to a growth path as it wrapped up restructuring efforts that had included a winding down of assets that the bank didn't want. The bank set out some financial targets at the time.
"They really set the course last year," Arnold Kakuda, a Bloomberg Intelligence senior credit analyst, said in a phone interview. The recent changes might be a reshuffling of the decks to get some "younger executives in their roles," he said.
The firm restructured other operations earlier this year, revamping its consumer-banking operation by merging the credit-card business with its wealth and retail units in the U.S. The shakeup led to the departure of the global credit-card chief, Judson Linville.
Other U.S. banks have also been adjusting their leadership as they plan for succession. Goldman Sachs Group Inc. said in July that David Solomon will become CEO in October, while JPMorgan Chase & Co. this year promoted Gordon Smith and Daniel Pinto to co-presidents under chief Jamie Dimon.