Britons Among First to Try Out Carlsberg With Much Less Plastic
(Bloomberg) -- In its effort to use less plastic in its products, Carlsberg A/S will start gluing together the beer cans it sells in six-packs around the world.
Chief Executive Officer Cees 't Hart says that a substance akin to dots of "chewing gum" will be used to keep the cans grouped, instead of the plastic web that traditionally holds cans together in their six-pack constellations. The company tried out about 40,000 different variations of glue before settling on the chewing gum variation.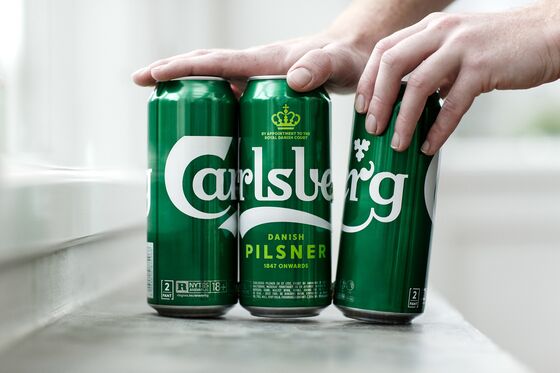 The new packaging will be rolled out in the U.K. and Norway this month, with other countries following over the next years. Carlsberg estimates the approach, which is one of a number of initiatives unveiled in Copenhagen on Wednesday, will save 1,200 tonnes of plastic annually, equal to 60 million plastic bags.
"It obviously is an investment," CEO 't Hart said in an interview, while declining to give a figure. He says the more environmentally friendly packaging won't push up prices for beer drinkers. Instead, the cost will be absorbed by cuts that 't Hart has been rolling out since he took charge in 2015, he said. "It can't be margin decreasing, of course," he said.
Carlsberg doesn't own the rights to the glue and hopes other breweries will follow suit. (The glue loses its adhesive property after the cans are separated so the can doesn't stick to one's hand. And the six-packs will still have a small plastic handle attached to the top.)
"We understand what the different stakeholders expect from us," the CEO said. "This is an area for maybe a just few of our stakeholders, but we compensate in other areas to make sure the investors get the right return on their investment."
The CEO said he hopes to make Carlsberg the most environmentally friendly brewery, which will help attract skilled workers in an increasingly competitive labor market. "Millennials often choose a company on the basis of purpose and its environmental program," he said.
Carlsberg also used its presentation on Wednesday to introduce a new coating for recyclable beer bottles, with the extra protection doubling their lifetime. And the brewer will use a new cap that removes the oxygen left in the top of a filled bottle so it keeps fresh for longer. Others initiatives include a new environmentally friendly ink for its beer labels.
"I think that a lot of waste will be monetized in 2 to 6 years," the CEO said. "So I can imagine there comes a price on CO2. If that comes, we are in a very good position. There might be coming a penalty on plastic and then we're in the right position."
While environmental investments can help reduce costs, the CEO said it was hard to gauge whether they would actually help the brewer's sales. (Carlsberg's top line has struggled -- last year the brewer's revenue fell to a seven-year low.)
"Research shows that consumers are concerned about the future and waste, but the moment they are in front of the shelf, that no longer tops the list for reasons for buying a brand or not," he said. "Obviously we hope that consumers find this to be great and buy us, but if they don't buy us, we will continue, because it's important for us."