Brexit Bulletin: The Path to a Deal
(Bloomberg) -- Today in Brexit: Some of the hurdles to a deal with Brussels are starting to fall. What happens when Prime Minister Theresa May brings the deal back to Parliament is becoming the bigger question. 
The path to a deal with Brussels is starting to emerge. And as many Brexit-watchers have long predicted, it involves postponing some of the toughest decisions until after exit day.
Bloomberg reported on Wednesday that Germany has dropped a demand that the future relationship should be set out in detail alongside the separation. The U.K. is also now willing to settle for less detail on what future ties should look like. What this means is that all the opposition to May's vision for Brexit – the so-called Chequers plan – doesn't necessarily stand in the way of getting a divorce deal. Chequers is all about the future, and the two sides are now focused on just getting their split over the line.
Remember that Brexit is in two parts: first the separation agreement to ensure an orderly exit and to secure the transition period that companies desperately want. What follows is the future trade accord, which won't be negotiated until after the U.K. leaves. The divorce agreement will be accompanied by a political statement on expectations for the future relationship. This document was once expected to run to 100 pages, but some officials now see something just a 10th of that size. European Union chief negotiator Michel Barnier has long said that Britain still has wiggle room on its future relationship even after the country has left – as long as the changes come before the end of the transition period.
In another sign that Brussels is working for a deal and leaving trickier decisions for later, Stefaan De Rynck, an aide to Barnier, was unusually polite about Chequers on Wednesday. After a group of British lawmakers returned from a briefing in Brussels declaring that Barnier had called May's proposals "mortes,"​​​​​​ De Rynck tweeted that Barnier had actually said some positive things about Chequers. Still, he was clear the U.K. cannot cherry-pick the best parts of the single market. 
Even for a fudged separation, an agreement is needed in the next couple of months on how to keep the Irish border open after Brexit. On that, there are also signs of progress. Bloomberg reported earlier this week that EU officials are exploring how to make their proposal more palatable to the U.K. Brexit Secretary Dominic Raab hinted this week that more concessions from the U.K. side are being considered. Irish Foreign Minister Simon Coveney said he's "confident" a deal can be reached, and negotiations on the border issue have "really intensified in recent weeks."
If May does get her deal, she still needs Parliament approval. And that will be the tricky bit. Leaving decisions on the future relationship vague could ease winning a majority – particularly if Brexiteers can claim there's no sign of Chequers in the deal and at least they are getting their hard-won divorce. The risk is that lawmakers balk at paying a £39 billion ($50 billion) divorce bill with no guarantee of their future trading deal. That might explain why Raab is talking up the "conditionality" he's trying to include in the divorce deal to ensure the bloc doesn't renege on promises.
A polling firm linked to Nigel Farage faces scrutiny over a short-lived company that its owner used to do political work for UKIP and the referendum campaign, Bloomberg reports.
Britain's Civil Aviation Authority is stepping up efforts to ensure that airlines and aerospace companies can keep functioning in the event of a no-deal Brexit.
Brexit is like a "building on fire" and buyout firms are circling, Dinesh Nair and Sarah Syed report.
Corbyn and a Second Referendum | Theresa May challenged Labour leader Jeremy Corbyn at Prime Minister's Questions on Wednesday to rule out supporting a second referendum, after members of his core team said it shouldn't be ruled out. Corbyn dodged the question. Watch out next week when the Trades Union Congress, a big Labour backer, will debate motions on a second vote. And it will come up again at the Labour Party conference later this month.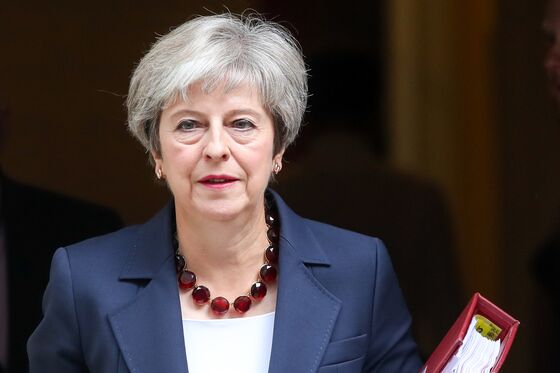 Filling the Gap | The U.K. will trial a seasonal workers program for fruit and vegetable pickers from outside the EU next year in an attempt to alleviate possible labor shortages after Brexit. An annual 2,500 workers over the age of 18 will be granted six-month visas to come to Britain from next spring.
Cost of No Deal | A no-deal Brexit scenario could end up costing businesses around £18 billion a year, the two chiefs of the U.K.'s tax and customs authority told lawmakers in Parliament.
On the Markets | The pound rose as much as 1 percent on Wednesday after the Bloomberg story on Brexit demands, and then pared gains after Reuters cited a German government spokesman saying its stance hadn't changed. It edged higher again in early trade on Thursday, to $1.2911. Investors are focused on whether May can get a deal, and avoid a cliff-edge exit.
Brexit Inquisition | The parliamentary committee quizzing Brexit negotiator Olly Robbins and Brexit Secretary Raab on Wednesday took an inquisitorial tone, particularly toward Robbins, the civil servant leading the negotiations who Brexiters distrust. When was he last at the Irish border? Had he leaked information to Brussels? Was he really behind Brexit or was he trying to scupper the project? "I'm right behind the policy of the government of the day," Robbins said. "There is no part of my personal views that will ever play a role in how I serve the government of the day."
Love Lost | The tension between Raab and Robbins was clear. Raab seemed miffed that lawmakers were more interested in Robbins than him. (Robbins reports to May, and since May has now taken control of negotiations, Robbins has more clout than Raab.) Asked whether he would send Robbins a Christmas card, Raab said he was "not sure." But, he added hastily, that's because he doesn't send many. This year, he might not have time to send any.
Want to keep up with Brexit?