Top Goldman Banker Awaits His Fate as New CEO Fills No. 2 Post
(Bloomberg) -- The bonhomie was flowing as a cadre of senior Goldman Sachs investment bankers convened in July at Silo Ridge, a private enclave set among the rolling hills of New York's Hudson Valley.
Officially, the retreat two hours north of Manhattan was to talk strategy for the firm's investment banking division, and enjoy a round or three on the club's Tom Fazio-designed golf course.
Unofficially, it was something more: a quiet celebration and pregame for an era to come. The unit's former leader, David Solomon, had just that week been named the firm's next chief executive officer. Now, anticipation was building that the man leading the annual off-site, John Waldron, would grab the second-highest post -- becoming a president of the bank. It would mean even greater clout for their business.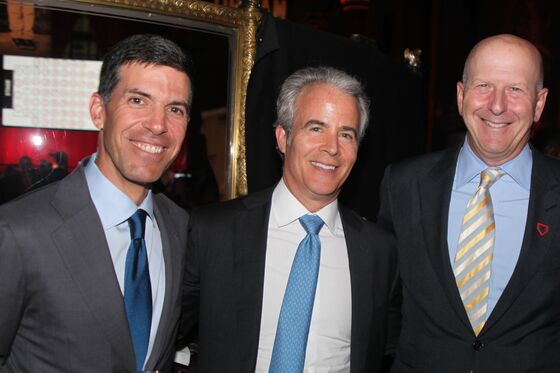 Waldron is the name that keeps making everyone's list in what's become the favorite parlor game at Goldman Sachs Group Inc.: predicting who will rise to co-president -- or even sole president -- under the new CEO. Executives around Waldron are convinced nothing short of a shock decision by Solomon can disrupt his elevation to that level.
A company spokesman declined to comment.
Traditionally, Goldman's dealmakers have vied with its traders for supremacy atop the firm. The ascent of not one but two bankers would cement a dramatic shift in power that's become a point of worry for the once-dominant trading division. Lloyd Blankfein, who came up through fixed-income trading, is set to step down as CEO at the end of this month. His longtime deputy, veteran trader Gary Cohn, left in late 2016 for a more raucous stint at the White House. And some of the firm's most-experienced trading leaders also have moved on.
In the world of M&A, Waldron, 49, is known for the ties he's forged with Rupert Murdoch. Recently, that's meant advising the patriarch of the Fox empire on selling a key chunk of his business to Walt Disney Co. in a $71 billion transaction. But sometimes having a seat at the table for the Murdoch family's deliberations means counseling them against proposed deals that never see the light of day.
"He's very candid. He cuts to the chase," James Murdoch, Rupert's son and the CEO of 21st Century Fox Inc., said in an interview this week. "He's not someone who messes around with long-winded PowerPoints that, if you change the logo in the bottom corner, could come from anywhere."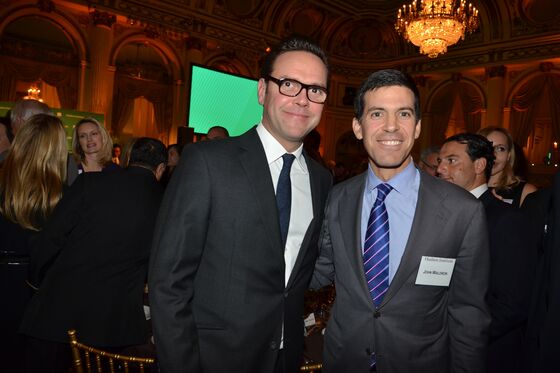 The younger Murdoch and Waldron have bonded over the years, and have gone backcountry skiing together, sometimes dropped out of helicopters. Waldron is adept at maintaining relationships that are both personal and commercial, said Patrick Healy, co-CEO at buyout firm Hellman & Friedman.
"I don't think anyone wakes up in the morning and wants to pay Goldman Sachs a fee," Healy said. "It's one thing to give advice and be a show pony, but on race day he gets up and performs."
Inside Goldman, Waldron is seen as a loyal ally of its next CEO, a relationship that took root when they worked together in the eat-what-you-kill world of Bear Stearns Cos. The two have bought properties on the same island in the Bahamas and at Silo Ridge.
While Solomon is known as a demanding boss, Waldron has crafted a softer image at work, with a less taxing approach as the head of Goldman's most profitable unit. Those who know him define him as a stereotypical investment banker -- good golfer, consummate salesman and an effective advocate. He's not the type to put an unusual hobby on public display, as Solomon sometimes does popping up on weekends as DJ D-Sol.
"David has a little devilish side to him and he enjoys that," said David Mussafer, a managing partner at private equity firm Advent International. "John is more straightforward."
Mussafer would know. He was on the other side of the table when Solomon and a group of bankers showed up in yoga gear to pitch for the Lululemon IPO pre-crisis (Advent was one of the clothing retailer's early investors). A half-decade later, after doing some advisory work for the Red Sox, Waldron began sharing season tickets to Fenway Park with a small group of dealmakers including Mussafer, a devoted fan. The timing was auspicious: It was 2013, the year the baseball team climbed from last in their division to win the World Series.
In the cutthroat deal-making world, Waldron will have to play peacemaker for financing issues that crop up and manage the constant paranoia that another firm is getting a better look at a lucrative transaction. Executives and competitors describe him as well suited for that role.
"John is one of those individuals you can call when something hasn't gone well," said Mussafer. "Goldman has to deal with a myriad of conflicts, otherwise they won't be able to do anything. He's one of those people you like to speak with even on thorny matters."
Waldron grew up in Cleveland with some ties to Wall Street, his father working at Smith Barney. Hoping to become a sports writer, he earned a degree in English from Middlebury College, but he also dabbled in financial topics. That included a class where Paul Volcker nudged those present toward a career in civil service. These days, Waldron advocates for the need to cut back on onerous rules adopted after the financial crisis -- measures championed by the one-time guest speaker at the Vermont school.
Waldron joined Goldman in 2000 -- a year after Solomon made a similar jump -- and snagged the title of partner in 2002. He ran the media and entertainment banking group before becoming a head of leveraged finance, which Solomon had grown in his first role at the bank.
In 2007, Waldron was dispatched to London to head a group that exclusively dealt with buyout firms, arriving just as the wheels were falling off the global economy. He was back in New York by 2011, focusing on a new group for the firm's most senior global bankers: cultivating and strengthening its most critical relationships.
"He's like the human LinkedIn," H&F's Healy said.
By 2014, he was elevated to head the investment bank alongside Solomon and Richard Gnodde. With promotions and transfers that have followed since, he's now the most senior member of the new trio leading the unit.
Waldron and his wife Amanda, a former Goldman investment banker (the two met at the firm) live with their children in a limestone condo off Manhattan's Central Park, where they purchased two units. Neighbors have included Blankfein, Goldman trading head Ashok Varadhan and the singer Sting.
Waldron, a registered Republican, has also carried on Goldman's storied tradition of nurturing ties to political power. He was involved in Mitt Romney's run for president in 2012, and was one of the organizers for a Jeb Bush fundraiser in 2015, back when the son and sibling of former U.S. presidents seemed like Wall Street's best bet.
Within Goldman, Waldron has furthered Solomon's push to turn the investment bank into a lean, numbers-focused unit that rewards those who bring the money into the firm, much like how the trading world works.
That has led to a disparity in compensation among partners in the unit, with the cream taking home most of the gains. Many of the rest are compensated as at any other firm on the Street, erasing an edge Goldman has always held over rivals.
The beneficiaries of that system were among those at Silo Ridge during the mid-week retreat in July. People aware of the private gathering agreed to describe it on the condition they not be named. One person said attendees presented on matters such as using technology to win deals, targeting clients, the partnership model and strategy for the year ahead.
If Waldron rises, the priorities they ironed out there would have all the more import for the entire bank. The timing for the decision is also noteworthy. It was 10 years ago that Solomon and Waldron's former firm, Bear Stearns, was among the first to succumb to a worsening financial storm. Now, the pair could lead Goldman Sachs into the future.