Suzuki Gains as China Exit Allows Carmaker to Focus on India
(Bloomberg) -- Shares of Suzuki Motor Corp. advanced after the Japanese carmaker said it's exiting China, abandoning a market where it struggled to gain traction and allowing it focus on its stronghold India.
The departure highlights the cut-throat nature of the Chinese market, where quick changes in customer tastes can leave carmakers exposed. Suzuki's lineup of mainly smaller cars became less competitive after consumers in the world's biggest auto market shifted purchases to larger sedans and sport utility vehicles amid rising incomes.
While an admission of defeat, the move paves the way for a sharpened focus on India, a market Suzuki dominates and where it aims to roughly triple sales to 5 million vehicles annually by 2030. The exit also allows Suzuki to avoid spending on development of new vehicles to meet China's tightening environmental regulations, analysts at Goldman Sachs Group Inc. said in a note Wednesday.
"We see strategic merit in Suzuki's accelerated moves to narrow its business focus to core areas," Goldman analysts led by Kota Yuzawa said in the note, reiterating their buy rating on the stock.
Shares of Suzuki advanced 1.7 percent as of the lunch-time trading break in Tokyo. They have added 13 percent this year.
The Japanese mini-car specialist announced Tuesday is was dissolving its last remaining Chinese joint venture, transferring its 50 percent stake in Changan Suzuki to Chongqing Changan Automobile Co. as soon as legal proceedings are completed. It canceled its other Chinese partnership in June.
In a sign of the pressures facing carmakers in China, Changan Suzuki was included in a public list of 30 companies licensed to manufacture so-called new-energy vehicles that haven't produced any units in the past 12 months or more. Strict quotas on NEVs -- which include pure electric vehicles and plug-in hybrids -- come into force in China from next year, toward a goal of having them make up a fifth of new car sales by 2025.
By contrast, although India has set a goal to have more than 30 percent of vehicles running on electricity by 2030, it doesn't yet have a policy road map for how to get there and the country's infrastructure is far from being ready to support such a fleet.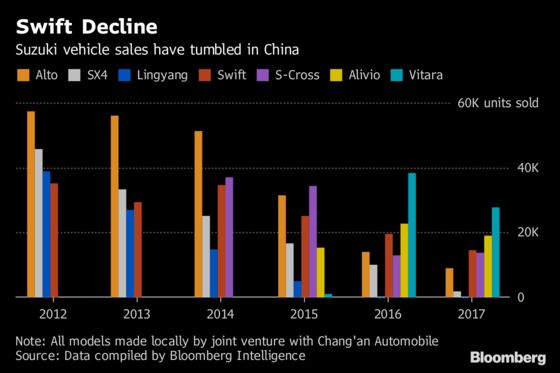 Whereas its Indian arm Maruti Suzuki has its name on about one of every two cars sold on the subcontinent, Changan Suzuki had seen its market share fall below 0.4 percent in China last year, according to Bloomberg Intelligence data. Even the addition of sport utility vehicles to the Chinese lineup couldn't temper the decline.
The Suzuki name isn't vanishing from China entirely -- partner Chongqing Changan Automobile Co. will continue to make and sell vehicles with that brand in the country. That could make a potential return for the Japanese company easier in the future.