Spiraling Contagion Fears Keeps the Bulls in Check: Taking Stock
(Bloomberg) -- Equities markets around the world are getting hit (e-minis are off ~6 handles so far) as emerging market contagion fears are bound to keep this market in check until the selling abates.
A quick look at the action shows the Shanghai Composite falling 1.7%, Europe's Stoxx 600 currently off 0.6%, Indonesia's stock market plunging nearly 4%, South Africa's rand slipping to its lowest level in over two years and the MSCI Emerging Markets ETF (EEM) tumbling 1.6% in early trading.
Given this backdrop, we're setting up for another day of more negatives than positives, as we saw yesterday (see below), including the latest commentary from some of market experts who think we've rallied too much in a very short time: The holiday-shortened week began with a bevy of equity strategists calling for big melt-ups from now until year-end and a further rally into 2019, but now we're getting Deutsche Bank's Binky Chadha seeing the potential for a typical 3%-5% pullback in the near term and Citi's Tobias Levkovich calling for more cautious positioning with 70% chance of the S&P 500 being down twelve months from now.
Newsflow was light since the close, though we did get Trump slamming Nike (-0.5% pre-market) for the "terrible message" its sending by picking Colin Kaepernick for its new campaign, Amazon CEO Jeff Bezos gracing the cover of Forbes magazine in a long read on "what he plans to conquer next," and Axios reporting that Woodward is said to have tapes to support claims from his new book, which Trump has already tweet-bashed as "already discredited" due to the multitude of lies and phony sources.
Trading plays for the day include the Nafta-related subgroups (autos, rails, and the such) as talks between the U.S. and Canada resume, all social media names as Twitter's Jack Dorsey and Facebook's Sheryl Sandberg face a grilling from Congress (see chart of the one-year gap between the two), the pot stocks which continue to spiral higher (Tilray ignores Citron's short call to climb another ~10% in the pre-market), truck machinery peers like Cummins and Navistar on the expected release of monthly truck orders, and weakness in retailer earnings from 1) footwear name Caleres, which fell 11% last night to buck recent earning pops from DSW and Shoe Carnival and 2) furniture company RH, which is indicated down points on a sales shortfall.
And you can keep tabs on the biggest names presenting at various sell-side conferences in the tick-by-tick list at the bottom of this column, as its possible one of the airlines (in fact, JetBlue just bumped up the low end of its RASM view ahead of its presentation), semiconductor (Intel goes right at the open followed by Texas Instruments) or consumer staples and/or retail companies may unleash quantitative or qualitative comments that could have read-through to its peers, as we saw with Schlumberger and the OSX on Tuesday.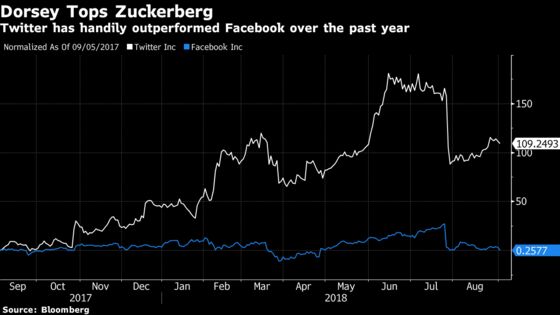 More Negatives Than Positives
There were positives and negatives in the way of newsflow (or lack thereof, if we're talking global trade negotiations), but I'd say it was skewed more towards the negative when all was said and done, hence the weak action and relatively ugly breadth for most of the day. The sector breakdown didn't exactly conform to one particularly rational trend, as one defensive sector led the way (utilities) while others brought up the rear (telecom, REITs).
Eco data coming in strong, most notably the well-above-expectations ISM Manufacturing print that hit a fourteen-year high (actual 61.3 versus estimate 57.6) while new orders climbed dramatically from the prior month
Equity strategists coming out in droves with gushing takes on this market, like Credit Suisse's Jonathan Golub calling for ~16% upside on the S&P from here, JPMorgan's Mislav Matejka telling clients to buy any knee-jerk dip on China tariff headlines, Wolfe's Chris Senyek expecting a ~5%+ "melt up" in U.S. stocks toward the end of the year, and Morgan Stanley's Michael Wilson issuing a mea culpa after repeatedly pounding the table for a market correction
Tech rally caps fastened with another FAANG member crossing the $1 trillion market cap mark, albeit a brief sojourn for the interim; this headline says it all: "Apple Walked to $1 Trillion; Amazon.com Got There in a Sprint"
Emerging market selloff leading to more market participants throwing around the harrowing "contagion" word; the MSCI emerging markets currency index has now fallen for the fifth time in six days
No major movement on the Nafta or China trade war front, though negative posturing with Canada over the weekend isn't helping things, while there's already a good amount of trepidation surrounding if/how/when Trump will execute $200 billion of tariffs on Chinese goods when the public comment period ends on Thursday
Nike weighed on the Dow (-3.2% yesterday) thanks to a fresh campaign ad with Colin Kaepernick, one of the most polarizing figures in all of sports
Mostly disappointing monthly auto figures, with GM sales said to have fallen ~13% in August while Daimler numbers falling more than a whopping 17% in the month
Schlumberger taking down the oil services group after mentioning a significantly softer than expected fracking market, which comes on the heels of an already shaky start given the attention brought forth by an NYT weekend op-ed from someone with Enron clout on how fracking may be "the next financial crisis"
A batch of negative analyst calls in the tech and telecom space, from MoffettNathanson's double whammy downgrades of Facebook and Verizon (-2.6% and -2.2%, respectively) to Evercore ISI stunning the hard-disk makers Western Digital and Seagate (-4.7% and -7.7%, respectively) on rating cuts related to NAND pricing concerns
Watch for technicals to come into play if traders start to pin near-term resistance at the whole number of 2,900 on the S&P 500 (see chart below), similar to how 2,800 was tested multiple times over the span of six months prior to the most recent breakout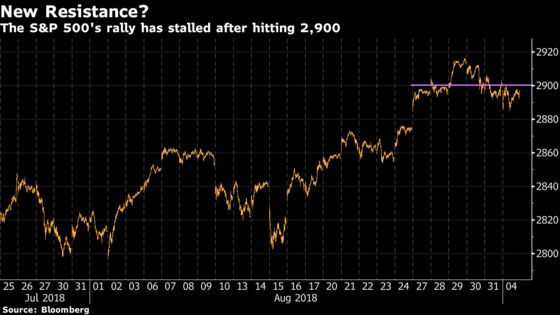 Notes From the Sell Side
Deutsche Bank's Chad Dillard resumes coverage on eight machinery stocks, noting that the group is approaching valuation lows vs SPX last seen during 2015 energy and 2008 global financial crises. Top picks are buys on AGCO (top pick) and Caterpillar along with a sell on Terex.
UBS slashes its price target on GE to $13 from $16 as "tougher market dynamics point to an even hard road ahead" for the company's Power unit, which reported orders down 26% and revenues down 18% in the second quarter.
Morgan Stanley's Katy Huberty boosts its price target on Apple to $245 (or ~$25 above the Street average) in a big note about the company's efforts to expand its original video content (sees Media bundle as $37 billion revenue biz by 2025) and to reflect recent multiple expansion at Services peers like Netflix, Twitter, and Amazon.
BofAML recommends buying Alcoa, Norsk Hydro and Chalco as the global aluminum market is now seen in record deficit in 2018, thanks to a stagnation in China's supply dynamic, and followed by similar deficits in 2019-20. And BMO is removing its buy rating on a couple of rail stocks in CSX and Canadian National after the strong share performance in recent months.
Tick-by-Tick Guide to Today's Actionable Events
Today -- Preliminary Class 8 truck orders from A.C.T. (may impact CMI, PCAR, NAV)
7:00am -- MBA Mortgage Applications
7:00am -- SCWX earnings
7:45am -- HAL, EOG at Barclays CEO energy-power conference
8:00am -- VRA earnings, HDS earnings call
8:00am -- CSX, DAL at Cowen global transportation conference
8:15am -- K, PPC at Barclays global consumer staples conference
8:15am -- PRQR hosts call on interim phase 1/2 data for QR-110
8:30am -- Trade Balance
8:35am -- GWR at Cowen global transportation conference
9:00am -- DLTH earnings
9:00am -- MO at Barclays global consumer staples conference
9:00am -- SGMO hosts call on phase 1/2 data for SB-913
9:05am -- CVX, APA at Barclays CEO energy-power conference
9:10am -- KSU, UAL at Cowen global transportation conference
9:30am -- TWTR's Dorsey, FB's Sandberg testify at Senate hearing on elections
9:30am -- INTC at Citi global tech conference
9:40am -- CELG, BSX at Wells Fargo health care conferemce
9:45am -- TAP, USFD at Barclays global consumer staples conference
9:45am -- COP, RIG, WMB at Barclays CEO energy-power conference
10:00am -- Bank of Canada rate decision
10:10am -- AIG at KBW insurance conference
10:20am -- TXN at Citi global tech conference
10:25am -- MRO, DVN, ESV at Barclays CEO energy-power conference
10:30am -- BLUE at Citi biotech conference
10:50am -- HUM at Wells Fargo health care conference
11:05am -- WFT, NBL, HCLP at Barclays CEO energy-power conference
11:15am -- KMB, SYY at Barclays global consumer staples conference
11:15am -- ULTA at Goldman global retailing conference
11:30am -- NSC at Cowen global transportation conference
11:45am -- MPC at Barclays CEO energy-power conference
12:00pm -- CSCO and Macquarie host call: "SD-WAN Tech Talk"
12:00pm -- HD at Goldman global retailing conference
12:05pm -- JBLU at Cowen global transportation conference
12:45pm -- QCOM at Citi global tech conference
12:45pm -- STZ, BGS at Barclays global consumer staples conference
1:05pm -- PXD, DO at Barclays CEO energy-power conference
1:15pm -- CRSP, EDIT at Citi biotech conference
1:30pm -- TWTR's Dorsey at House hearing on firm's algos and content moderation
1:30pm -- HUBS analyst day
1:30pm -- HRL at Barclays global consumer staples conference
1:45pm -- VLO, LNG at Barclays CEO energy-power conference
2:15pm -- AMAT at Citi global tech conference
2:25pm -- CLR, KMI at Barclays CEO energy-power conference
2:30pm -- DKS at Goldman global retailing conference
3:00pm -- CLX, TSN at Barclays global consumer staples conference
3:45pm -- LRCX at Citi global tech conference
4:00pm -- Fed's Kashkari speaks at Montana town hall
4:05pm -- MDB, ZS, VRNT, CWK earnings
4:10pm -- DOCU, AVAV, OLLI earnings
4:15pm -- CLDR, GWRE earnings
4:15pm -- COST Aug. sales
4:30pm -- API oil inventories
4:30pm -- NOW at Citi global tech conference
4:30pm -- EL at Barclays global consumer staples conference
6:00pm -- CTRP earnings