South Korean Envoys Meet Kim to Revive Talks With U.S.
(Bloomberg) -- South Korean envoys met with Kim Jong Un in Pyongyang, as they sought to revive nuclear talks that have stalled since U.S. President Donald Trump's summit with the North Korean leader.
A five-member delegation sent by South Korean President Moon Jae-in were expected to return to Seoul late Wednesday and brief the media on the talks Thursday, his office said in a text message. The same team -- including National Security Office head Chung Eui-yong and National Intelligence Service chief Suh Hoon -- helped broker Trump and Kim's historic meeting in June.
The envoys gave Kim a letter from Moon, the contents of which haven't been disclosed. Moon's office didn't provide details about the location or duration of their meeting with Kim.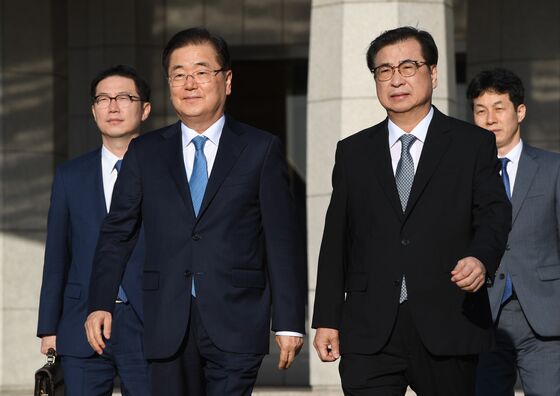 The envoys faced a difficult task as disagreements mounted over the speed and sequence of efforts to eliminate North Korea's nuclear arsenal and finally end the Korean War. While Kim pledged in June to "work toward complete denuclearization of the Korean Peninsula," his agreement with Trump didn't define what that meant or offer a timetable for carrying it out.
Trump canceled a North Korea trip by Secretary of State Michael Pompeo last month, a day after it was announced, citing a lack of progress.
Moon and Trump spoke for almost an hour before the envoys' trip. Moon told Trump that improvements in inter-Korean ties would help the goal of denuclearization, and the two leaders agreed to meet at the United Nations General Assembly in New York in late September.
The envoys' mission also includes reaching an agreement on a date and agenda for the third inter-Korean summit between Moon and Kim to be held in Pyongyang. Such summit would make Moon the first South Korean leader to visit Pyongyang in 11 years.
"Now is a crucial period for establishing peace on the Korean Peninsula," Chung said, ahead of his trip to Pyongyang. "Peace on the Korean Peninsula goes hand in hand with complete denuclearization."
Moon, who was elected last year on a promise to improve ties between the two Koreas, has tried to prevent the nuclear disagreements from disrupting reconciliation efforts. Moon and Kim are seeking to replace the armistice that halted fighting in 1953 with a formal peace treaty.
Chung also told reporters that he expected a "good outcome" on opening of a liaison office at the Gaeseong industrial complex in North Korea. Moon's government has rejected concerns that the liaison office would violate United Nations and U.S. sanctions against North Korea, saying its operation would bring the country no economic benefits.