Slowing Quake Rebuild Brings New Zealand Construction to a Crawl
(Bloomberg) -- New Zealand's construction industry is growing at the slowest pace in six years, adding to risks that the economy may struggle to gain momentum.
Construction growth slowed to 1.8 percent in the year ended June, less than a quarter of the 8.1 percent pace in the prior year, Statistics New Zealand data showed Wednesday. Residential building rose 3.2 percent, down from 10.2 percent, while non-residential construction contracted.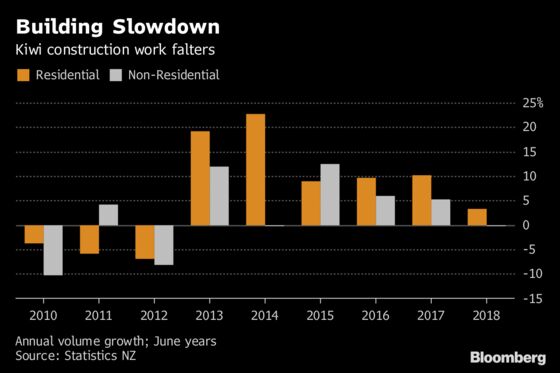 Economists are closely watching for signs that economic growth is faltering after the central bank last month said it wanted to see a pick-up in activity by the end of the year or it may have to consider an interest-rate cut. While the level of building activity remains high, its sluggish expansion may weigh on growth, which slowed to 2.7 percent in the first quarter after averaging about 3.5 percent in the three years through 2017.
"The GDP outlook looks softer into the second half of the year," said Liz Kendall, senior economist at ANZ Bank New Zealand in Wellington. "Dwelling consent issuance is on a downward trend, and there is also a risk that recent weakening in firms' investment intentions flows through into non-residential work."
While the construction industry is naturally slowing from the heightened activity seen during the rebuilding of Christchurch, after the nation's third-biggest city was devastated by earthquakes in 2011-12, it's also being buffeted by capacity constraints, cost pressures and credit headwinds.
New Zealand's largest player, Fletcher Building Ltd., has suffered losses on major projects, while smaller firm Ebert Construction last month went into receivership.